Today's Message from the Revolution
November 18, 2018 | Revolution Newspaper | revcom.us
HOW WE CAN WIN—How We Can Really Make Revolution says, "Thousands need to get organized into the ranks of the revolution now, while millions are being influenced in favor of this revolution."
Be part of those thousands across the country. Check here every day. Spread these on social media. Join in with the Revolution Clubs on the ground and on social media. Report back with your thoughts, responses and suggestions at revolution.reports@yahoo.com.
November 18, 2018
2. No more of the putrid culture of "ownership" & "me first."
We need a radical revolt against a revolting culture.
Read, comment, share.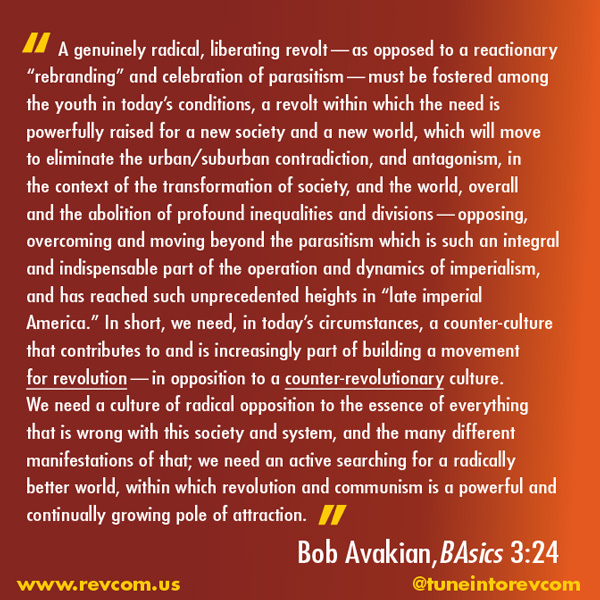 3. Maya of Revolution Club, Chicago faces 7 years in prison for holding 11 min of silence for the 11 million undocumented immigrants in the US. She is a follower of Bob Avakian, & is fighting for a society w/out borders where no human being is "illegal."
Support Maya, donate to her legal battle at https://www.fundedjustice.com/Free_Maya
Sign the petition at https://tinyurl.com/PetitionFreeMaya
#FreeMaya #Revolution #JoinTheRevolutionClub 
Share on Twitter
Share on Facebook
Share on Instagram
---

Volunteers Needed... for revcom.us and Revolution
If you like this article, subscribe, donate to and sustain Revolution newspaper.