Today's Message from the Revolution
February 24, 2019 | Revolution Newspaper | revcom.us
HOW WE CAN WIN—How We Can Really Make Revolution says, "Thousands need to get organized into the ranks of the revolution now, while millions are being influenced in favor of this revolution."
Be part of those thousands across the country. Check here every day. Spread these on social media. Join in with the Revolution Clubs on the ground and on social media. Report back with your thoughts, responses and suggestions at revolution.reports@yahoo.com.
February 24, 2019
1. After the revolution, how will we use peaceful tactics to maintain power?
"If we turn into new oppressors, in the name of getting rid of oppression, then it's just going to go back to the way it was."
This Q&A followed the speech by Bob Avakian:
Why We Need An Actual Revolution
And How We Can Really Make Revolution
revcom.us/ActualRevSpeech/
2. We should always be ready to learn new things, while we should also always struggle for the truth...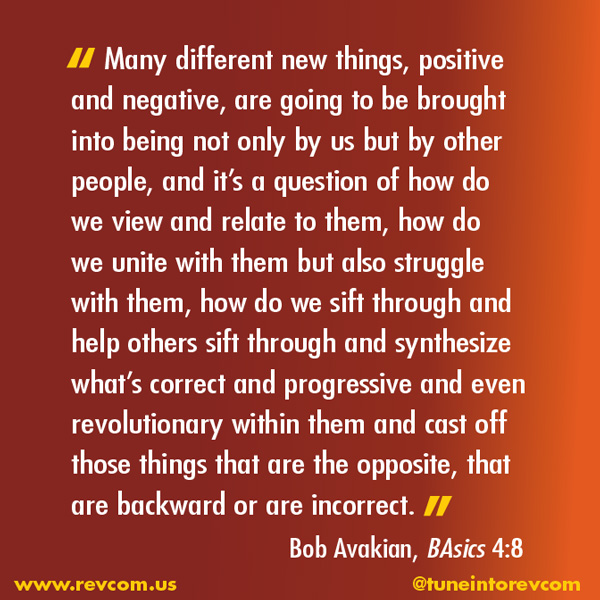 3. The one privilege these identity politics hustlers don't ever talk about is AMERICAN privilege!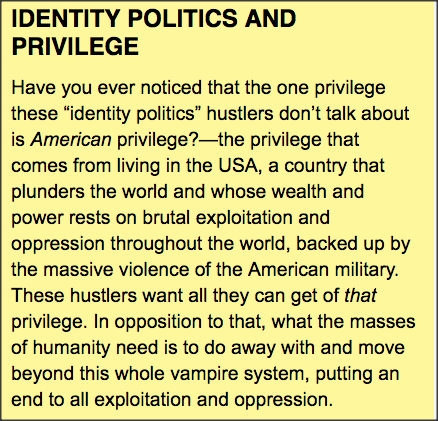 Share on Twitter
Share on Facebook
Share on Instagram

Volunteers Needed... for revcom.us and Revolution
If you like this article, subscribe, donate to and sustain Revolution newspaper.