Message from Carl Dix: "You Need to Be in the House for This Book Launch"
October 3, 2016 | Revolution Newspaper | revcom.us
The following letter from Carl Dix was sent out by the Stop Mass Incarceration Network.
Friends,
Over the last few months I've been in Baltimore when the prosecutors failed to convict even one cop for killing Freddie Gray; in Baton Rouge and Charlotte when people rose up in mass protest at the killings of Alton Sterling and Keith Lamont Scott were murdered by police. Every day there's another person murdered by the police—3 in the last several days in southern California alone.
In almost every case, the killer cops get away with murder, and get no punishment. This needs to be met with powerful resistance, as we did with #RiseUpOctober last year in NYC, and I will be there on the front lines with you, as always, going forward.
But the truth is that police terror is built into the fabric of the capitalist/imperialist system, and it cannot be ended without getting rid of this system thru an actual revolution, one that overthrows the system and puts a totally different and far better system in its place.
I know the conventional wisdom is that revolution isn't possible because the system is too powerful and the people are too messed up. But this isn't true, and anyone who wants to see the way police get away with murder, and all the other horrors this system inflicts on humanity, ended once and for all has to grapple with the question of the necessity for and possibility of revolution.
A great way to grapple with that question is to get a copy of THE NEW COMMUNISM by Bob Avakian. I am a long time follower of Bob Avakian, and I can tell you he's devoted his life to addressing everything that stands between humanity and its ultimate emancipation. This book speaks to why revolution is both necessary and possible, how a revolution could be made in a country like this and the kind of world that could be brought into being through revolution.
Cornel West and I are going to be part of a launch for THE NEW COMMUNISM doing commentary about it on Saturday, October 8 at 1:30PM at the Schomburg Center for Research in Black Culture. If you are in New York, or can get there, you need to be in the house for this book launch.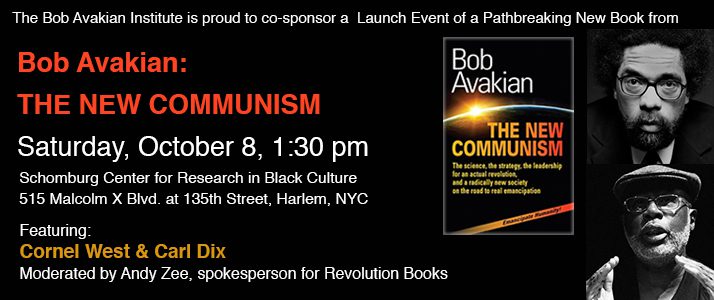 Buy Tickets Now for Bob Avakian Book Launch

The launch event will be livestreamed through a public link at the website of Revolution Books, New York. The video of the program will be available after the event at the same site as well as at www.revcom.us. Group viewings are organized in Baton Rouge, Berkeley, Chicago, Cleveland, Los Angeles and Seattle.
Finally, I'd like to hear from you on what you think about THE NEW COMMUNISM, so write me with your feedback about this important book.
Sincerely,
Carl
PressOffice@carldix.us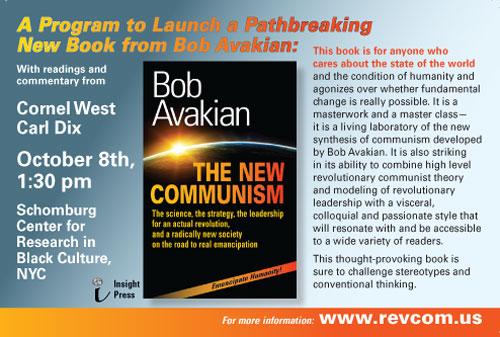 Volunteers Needed... for revcom.us and Revolution
If you like this article, subscribe, donate to and sustain Revolution newspaper.