21 de febrero de 2017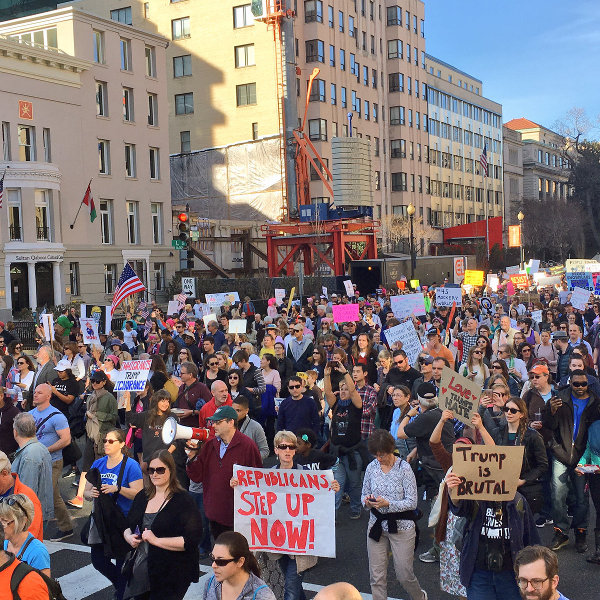 Washington, DC: Marchando a la Casa Blanca. Foto: Twitter/@Collinrees
15 de febrero de 2017
11 de febrero de 2017
6 de febrero de 2017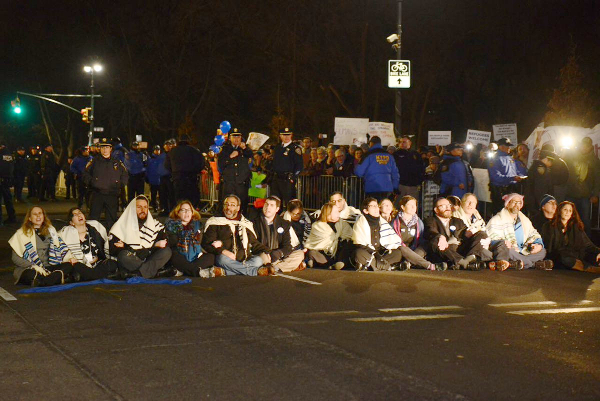 Credit: Twitter/@Truahrabbis
4 de febrero de 2017
10,000 protest in Denver, CO (Photo: Twitter/@dcwoodruff)
Ciudad de Nueva York, 5:54pm: ¡ALERTA! Organizadores de RefuseFascism / Rechazar el Fascismo y del Club Revolución de Nueva York detenidos. La policía se interpuso para defender a unos nazis partidarios de Trump que hostigaban a las personas.
ALERT! Organizers w/ @RefuseFascism & @NYCRevClub have been arrested. Police stepped in to defend Nazi Trump supporters harassing ppl. pic.twitter.com/bHBNyeJArd

— #NoFascistUSA (@RefuseFascism) February 4, 2017
1 de febrero de 2017
Protestas poderosas en la Universidad de California en Berkeley obligan la cancelación del fascista Milo Yiannopoulos.
We ain't opposing free speech...we opposing a fascist America #miloatcal pic.twitter.com/wmKbiSMDla

— #NoFascistUSA (@RefuseFascism) February 2, 2017
28 de enero de 2017
8:30 p.m.: En este momento en la Ciudad de Nueva York, la policía está impidiendo que todo aquel sin boleto entre al aeropuerto JFK.
---
28 de enero de 2017
25 de enero de 2017
Cobertura en Mundo Hispánico de Rechazar el Fascismo - RefuseFascism.
---
Fuera de la audiencia del tribunal para los manifestantes detenidos el 25 de enero por irrumpir en la audiencia de confirmación de Sessions.
---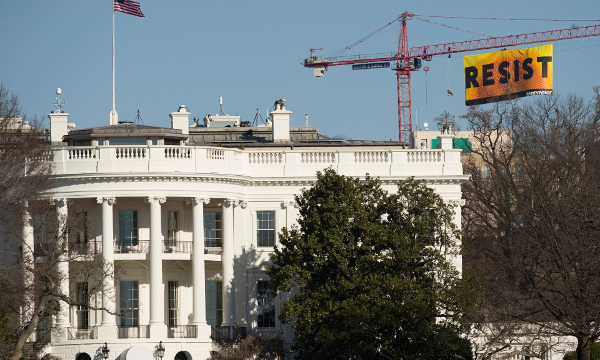 Early morning of January 25 Protesters unfurled a 70-foot by 35-foot banner from a high-rise crane a few blocks from the White House in Washington, DC, for several hours. According to the press, a statement issued by Greenpeace quoted one of the people who unfurled the banner, "I fear not only the policies of the incoming administration, but also the people emboldened by this election to commit acts of violence and hate. Now is the time to resist." (Photo: Ken Cedeno/Greenpeace)
24 de enero de 2017
#NoDAPL protest in DC taking to the streets w/ #RefuseFascism
On our way to Trump Hotel to shut it down!#DriveThemOut#NoFascistUSA pic.twitter.com/BuAbSXKf9V

— #NoFascistUSA (@RefuseFascism) January 24, 2017
#NODAPL protestan en las calles de Washington DC junto con #RefuseFascism. ¡En rumbo hacia el Hotel Trump para cerrarlo! #DriveThemOut#NoFascistUSA
---
Evanston, Illinois: Huelga de estudiantes de prepa contra Trump y Pence
El martes, cientos de estudiantes de la escuela secundaria Evanston Township High School en Evanston Township, Illinois, salieron de clases a mediodía para una marcha y mitin en la plaza del pueblo, coreando "Hey hey, ho ho, Donald Trump tiene que irse". La protesta se inició cuando un estudiante posteó un llamado en Facebook y reunió a una docena de estudiantes para formar un núcleo de organizadores. En el mitin, este estudiante dijo: "Si no estás indignado, no estás prestando atención. La protesta es sólo el primer paso".
Una estudiante dijo a la prensa que lloró por tres días después de las elecciones. Otro dijo, "estamos asustados y enojados". Otros reconocieron el peligro bajo Trump y Pence a personas que son diferentes, lo que incluye a algunos de estos jóvenes que participaron en la protesta.
Lea más al respecto, en inglés, y vea el video de la manifestación AQUÍ.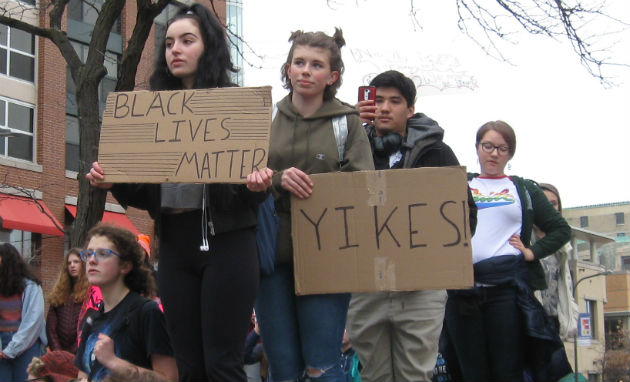 estudiantes de la escuela secundaria Evanston Township High School
23 de enero de 2017
Chicago: Youth Take to Streets against Trump
On Monday a Refuse Fascism crew went back out to downtown Chicago to challenge people to stay in the streets, no business as usual. Some of the local press came: Fox TV, ABC and photographer from the Tribune. Some people who had marched at the Inauguration Day protests and the Women's March this weekend joined. A crew of Black students from a downtown alternative high school played a big role in carrying signs, banners, chanting loudly and challenging others to join. Several college students joined up, one from Brazil.
We marched down the main shopping street for 3 blocks before the cops came and threatened arrests. But people had their eyes on marching to Trump Tower. Cars honked for us and people from all walks of life gave support. A white grade schooler from Wisconsin visiting Chicago with his mother joined for a few blocks, and the Black youth gave a warm cheer. A man on his way to the commuter train changed his plans, ran with us, and videotaped the speak-out in front of Trump Tower.
High school students, a white college student from Florida, young Black student, and others spoke to why they were out in the streets against Trump. A Latino brother who said he had been in "the life" in his youth said that people killing each other is just getting played by the system and challenged the youth to set their sights on and be part of driving Trump out.
In front of the Supreme Court, Washington, DC, January 23
"El fascismo siempre busca imponerle a la sociedad una versión absolutista y fantástica de la realidad y poner en camisa fuerte a cualquier intento de llegar a la realidad objetiva de cualquier cosa." —De "Hay vidas en juego… ¿Qué lado ganará? Los primeros días de Trump: La mano dura del fascismo y la chispa de la resistencia"
Click image to enlarge or tweet
.@Carl_Dix in fromt of Supreme Co pic.twitter.com/2y3NDYmbON

— #NoFascistUSA (@RefuseFascism) January 23, 2017
We need to so what the German ppl should have done when Hitler came to power. Trump is going forward w/ his fascist agenda. #DriveThemOut pic.twitter.com/KR2TvMWqzz

— #NoFascistUSA (@RefuseFascism) January 23, 2017
22 de enero de 2017
Extracto de Carl Dix hablando en una conferencia de prensa, Washington, D.C., 22 de enero.
21 de enero de 2017
Sunsara Taylor y RefuseFascism / Rechazar el Fascismo en la Marcha de las Mujeres
20 de enero de 2017
Miles están marchando en Washington, D.C. ¡De pie, a unírseles!
¡En nombre de la humanidad, nos NEGAMOS a aceptar a un Estados Unidos fascista!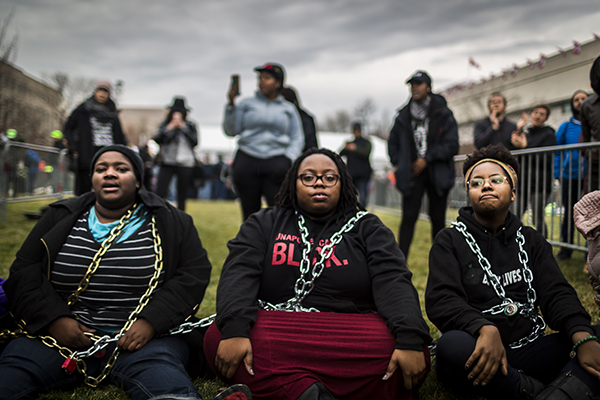 Mujeres de "La vida de los negros importa" encadenadas en protestar contra Donald Trump, Washington, D.C., 20 de enero. (Foto: Sipa vía AP)
Avión con bandera "Nosotros superamos numéricamente a él. ¡A resistir!", Ciudad de Nueva York.
Seen over #NYC on this dreary morning. The banner says "We Outnumber Him. Resist!"#Inauguration #InaugurationDay2017 #inaugurationprotests pic.twitter.com/QGle1JzRCg

— Diana Mahmoud (@DianaDoesTweets) January 20, 2017

Autopista I-395
¡¡VÍSTANSE LA LETRA "I" POR ILEGÍTIMO!!
"I" es para ILEGÍTIMO. Imprima esta calcomanía. Pégale por donde vaya, que se haga viral. Vístalo durante todo el día, junto con la calcomanía del ¡NO! Llévelos por centenares. Repártalo a otros para que se lo pongan y lo distribuyan.
Para ver los informes / videos / fotos del día anterior en inglés, haga clic aquí