Prepare the Ground, Prepare the People, and Prepare the Vanguard—Get Ready for the Time When Millions Can Be Led to Go for Revolution, All-Out, With a Real Chance to Win.
The RNL Show—Revolution, Nothing Less!
Episode 3 of The Revolution, Nothing Less Show
Science and the New Communism, Prisons and COVID-19
Episode 3 of The RNL Show—Revolution, Nothing Less! is now available on YouTube. Featuring: COVID-19 and prisoners; Bob Avakian's advance of the science for an actual revolution; and an update from Dr. Phil Rice, Chair of Emergency Medicine at North Shore Medical Center in Salem, Massachusetts.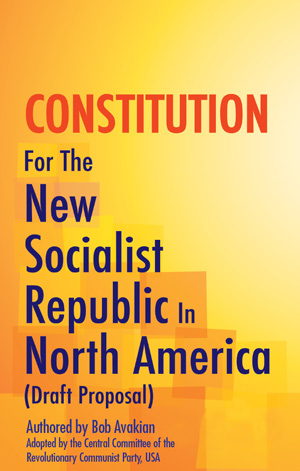 Excerpt from the Constitution for the New Socialist Republic in North America, authored by Bob Avakian
In the Name of Humanity,
We REFUSE to Accept a Fascist America
The Get Organized for an ACTUAL Revolution Tour
"You Think You're Woke... But You're Sleepwalking Through A Nightmare —This System Cannot Be Reformed, It Must Be Overthrown!"
Noche Diaz reads Communique #3 from the Revcoms — The Coronavirus and the Attacks on Immigrants: We Need a Revolution!
To know and change the world...
get into Bob Avakian (BA),
the leader of the revolution.
To know and change the world... get into Bob Avakian (BA), the leader of the revolution.
BA has developed a new communism, a thoroughly scientific method and approach that charts a pathway to human emancipation.
This column features timely work from BA – a "living lab" of probing reality and grappling with advancing the revolution.
Read on to find BA's foundational work that gives a more overall understanding of why we need a revolution, what that revolution is all about, and how we can really make that revolution and build a whole new society.
Highlighting
About Bob Avakian
Bob Avakian and THE NEW COMMUNISM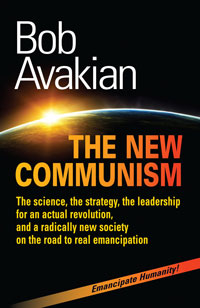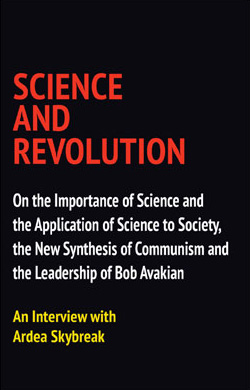 Updated prepublication PDF,
November, 2019
Read or download (searchable PDF)
Now also available in Spanish and in the journal Demarcations in these languages—English, Spanish, Farsi, Portuguese, German, and Turkish. The latter two are partial, and works in progress.
WWW.REVCOM.US/REVOLUTION NEWSPAPER brings alive a scientific analysis of major events in society and the world—why they are happening, how different events and developments relate to each other, how all this relates to the system we live under, where people's interests lie in relation to all this, how revolution is in fact the solution to all this and what the goals of that revolution are, how different viewpoints and programs relate, positively or negatively, to the revolution that is needed, and how people can move, and are moving, to build toward that revolution. Revcom.us/Revolution is the guide, the pivot, the crucial tool in drawing forward, orienting, training, and organizing thousands, and influencing millions—fighting the power, and transforming the people, for revolution—hastening and preparing for the time when we can go for the whole thing, with a real chance to win.
Subscribe to revcom.us | Donate to/Sustain revcom.us | Send your correspondence to revolution.reports@yahoo.com