Previous articles, campaigns, reports
September 21, 2015
On September 18, the U.S. House of Representatives passed a bill aimed at blocking $500 million in federal funds to Planned Parenthood. This attempt to defund Planned Parenthood is the latest attack in an ongoing campaign by fascist forces to stigmatize abortion and birth control, to demonize those providing these health services to women, and to eventually make it completely impossible for women to get birth control and abortions—to force women to bear children against their will. Read more
---
---
December 28, 2015
For at least seven months, from December 2013 through mid-June 2014, an on-duty, in-uniform cop stalked Black women in an oppressed area of Oklahoma City. He attacked at least 13 women—about one every two weeks during that time period—including a 17-year-old girl raped on her mother's porch and a 57-year-old grandmother forced into oral sex while staring at her attacker's handgun. Terror and humiliation was central to these crimes, most of which were carried out on streets and other public areas where some of the women were forced to disrobe. Many of the women said they believed that they would be killed if they did not submit, or maybe even if they did. Read more
---
Decenber 21, 2015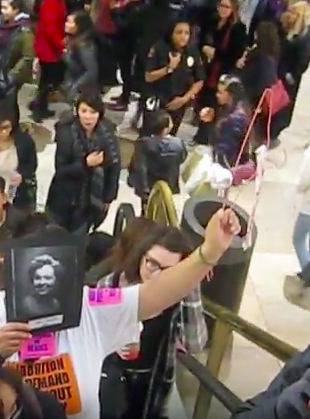 It is Sunday afternoon, five days before Christmas. An indoor San Francisco mall is packed with people doing their last-minute holiday shopping. A woman walks by holding high in the air a coat hanger with a red-soaked cloth hanging from the tip. Her white pants are stained red from the crotch down the inside of her legs. Her shirt bears the words, "Abortion on Demand and Without Apology." Over her face she is holding the picture of Rosie Jimenez, a woman who died from a botched illegal abortion. Read more
---
December 14, 2015
---
December 8, 2015
The following is a lightly edited snapshot from a young revolutionary who led a team with two very new people going out in a busy public area to build for the demonstrations Stop Patriarchy is organizing in DC and San Francisco for the anniversary of Roe v. Wade, the Supreme Court decision that legalized abortion in the U.S. in 1973. Read more
---
November 27, 2015
November 27, 2015, updated @ 10:30 PM: On Friday a gunman launched an armed attack against the Planned Parenthood clinic in Colorado Springs, Colorado, wounding at least nine people, with three confirmed murdered as of this writing. This heinous attack marks a serious escalation of the war against women AND a serious escalation in the overall attacks on the people. This must be met with determined, unyielding struggle.
---
November 30, 2015
As soon as news broke that a gunman had holed up inside a Planned Parenthood Clinic in Colorado Springs last Friday, Sunsara Taylor mobilized StopPatriarchy.org to hold a vigil Friday night in New York City's Union Square.  While the armed standoff in Colorado was still unfolding, over 25 people lined the south end of the park, holding bright orange posters which read, "Abortion On Demand and Without Apology."  Read more
---
December 8, 2015
---
November 27, 2015
---
December 8, 2015
While men make up 90 percent of those imprisoned in the United States, the number of women behind bars has been growing at a faster rate than the overall prison population. Today, there are about 206,000 women in prison and jail in the USA. Only 5 percent of the world's female population lives in the U.S., but the U.S. accounts for nearly 30 percent of the world's incarcerated women. Read more
---
October 19, 2015
---
November 9, 2015
On October 28, 27 immigrant women asylum-seekers began a hunger strike to protest terrible conditions, abusive treatment, and poor medical care at the T. Don Hutto Residential Center in Taylor, Texas, near Austin. The hunger strike is reported to be growing and spreading through the 500-bed facility. Read more
---
October 26, 2015
On October 23, Texas State Health Department officials raided Planned Parenthood clinics in Houston, Dallas, San Antonio and Brownsville to demand that the clinics turn over thousands of pages of documents, including patient records and employee phone numbers and addresses. These fascistic raids were related to the move by the governor of Texas just a few days earlier to cut off Medicaid funding for Planned Parenthood. Read more
---
"The Catholic Church enslaves women!" Strong voices echoed out through the canyons of New York City streets, turning heads and causing jaws to drop. "They are criticizing Pope Francis?" Scandalous!
---
June 13, 2015
Dori was just 27 years old. A young Black woman full of life who liked to eat her mustard greens, with raw onions—with corn bread—with her fingers—while munching on a jalapeno pepper at the same time. She liked drinking malt liquor when playing the card game bid whist with her friends—a fun game similar to spades. As an eight-year-old, I remember she was the only adult I felt comfortable talking to because she took my ideas—even though I was only a child—seriously. Read more
---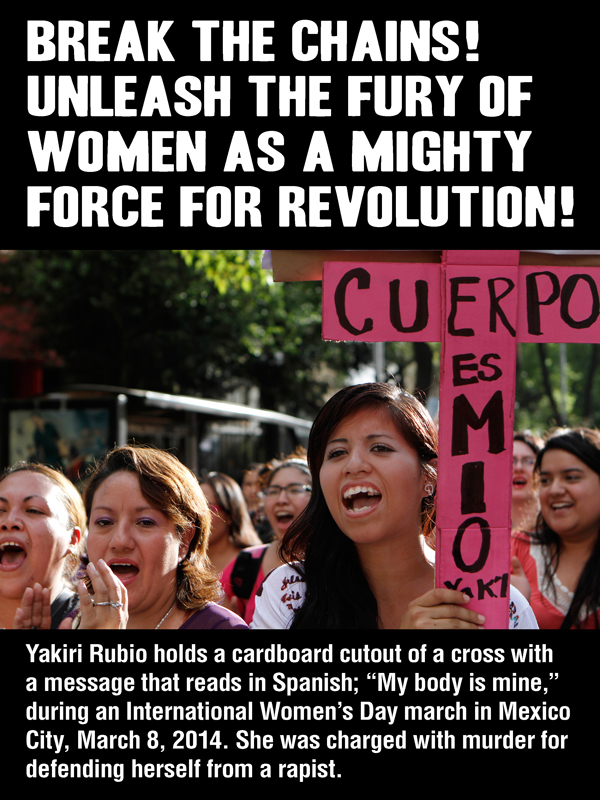 ---
September 21, 2015
On September 22, Pope Francis arrives in the U.S. Along with meeting with the powerful, he will have well-publicized meetings—photo ops, really—with immigrant workers from Africa and Mexico in New York and encourage their struggle for union recognition, along with other groups of oppressed. He comes to the U.S. having earlier issued a passionate critique of environmental destruction. In a world of extreme inequality, he preaches "the dignity of the poor." But despite surface appearances, this is NOT a new Catholic Church. Read more
---
October 19, 2015
---
October 5, 2015
by Sunsara Taylor
On September 19, two young women—Amelia Bonow and Lindy West—started the Twitter hashtag #ShoutYourAbortion to challenge the stigma and shame that hangs over abortion. Now, Amelia Bonow has been driven from her home by death threats and harassment from so-called "pro-lifers." This tells you everything you need to know about the fight over abortion. It has never been about "babies," it has always been about control over—and hatred for—women. Now, with abortion under attack as never before, it is time to stand and fight for women's lives. Read more
---
September 7, 2015
We received this letter from someone active in Stop Patriarchy. Ohio's proposed law H.B. No. 135 would ban abortions that are sought because of a fetal diagnosis of Down syndrome and make it a felony for providers to knowingly perform abortions under such circumstances. The state could also revoke a provider's license. The fact that this is even being considered is outrageous! Read more
---
September 14, 2015
---
Changing Terms: Spotlight Mississippi
---
August 7, 2015
Watch the People's Hearing now
Transcript of Sunsara Taylor's presentation: This IS About Women's Liberation
Excerpts from presentation by Diane Derzis, owner of the last abortion clinic in the state of Mississippi: "I am so proud to say I am an abortionist."
---
August 17, 2015
by Sunsara Taylor
Women are everywhere. They make up half of society. Half of the world's population. Yet, so much of what women are forced to endure daily is kept invisible. Right now, for example, a vicious war is raging against the right of women to decide for themselves when and whether to have a child, yet almost never do you hear the actual impact this is having on women. Already this year, more than 50 laws have been passed to further restrict abortion rights. Fascist lawmakers are clawing all over each other to be the most extreme in abolishing abortion—and even birth control—yet the women whose lives are being crushed by this are left completely out of the picture. Read more
---
by Stop Patriarchy | August 24, 2015
---
July 27, 2015
by Sunsara Taylor. A vicious new and extremely dangerous attack has been launched against Planned Parenthood, a major provider of abortions to women in this country. Read more
---
August 3, 2015
From a reader. In the form of a whipped-up but utterly non-reality-based "scandal" over three "gotcha" videos being pushed out by anti-abortion forces, a horrific and massive mind-fuck is in process. Read more
---
August 3, 2015
Ten thousand brochures—A FETUS IS NOT A BABY—are being distributed in Mississippi, in the heart of the Bible Belt, by End Pornography and Patriarchy. This comes at a time when lies and distortions about abortion are at a fever pitch. Read more
---
July 10, 2015
From a reader. Read more
---
Night Screening of Sunsara Taylor's Speech "STOP the Assault on Abortion Rights! Break ALL Chains that Enslave Women"
July 20, 2015
---
July 27, 2015
From a member of the Bay Area Revolution Club and Stop Patriarchy
---
April 6, 2015
by Sunsara Taylor. Read more
---
The Stories and Anger Poured Forth... National Actions to Stop the Assault on Abortion Rights
A Report from NYC, by Sunsara Taylor
Read this and other reports from the July 1 protests
Updated July 9, 2015
---
June 29, 2015
by Sunsara Taylor. Three horrendous anti-abortion laws that were set to go into effect in three different states on July 1st have been temporarily blocked by three different courts. This is a positive development, but it is not a time to breathe a sigh of relief. These rulings are only temporary. The fight over abortion continues to heat up. It is likely that a challenge to one or more of these restrictions will soon be taken up by the Supreme Court, a court which has been increasingly hostile to abortion rights in recent years and whose ruling would have enormous repercussions for decades to come. Read more
---
July 6, 2015
---
June 26, 2015
June 26, the U.S. Supreme Court ruled by a 5-4 margin that same-sex marriage is legal throughout the United States. The right to marry is a basic right. Denial of that right has, for hundreds of years in this country, essentially deprived LGBT people of their humanity. This has been an historic, horrible injustice and outrage. This ruling is long overdue, and something to celebrate!
At the same time, there are many battles to come, and still a historic challenge to really, fully, deeply uproot enforced ignorance, cruel prejudice, legal discrimination, and vicious attacks on people who do not fit into patriarchy-defined gender roles.
---
June 22, 2015
The documentary film Vessel takes you onboard as the Women on Waves project takes to the seas to bring women the knowledge and tools to help them exercise the "most basic right" to control when and if they have children. The project was founded by a Dutch doctor who was appalled by the situation women faced in countries where abortion is illegal. She applied her experience on a Greenpeace ship to organize a crew of (mainly) women to outfit an onboard clinic to provide medical abortions to women on the high seas. A medical abortion is a safe non-surgical abortion in which drugs (Mifepristone and Misoprosto) are used to abort a fetus. The film itself explains the science and availability of the pills that are needed to safely medically abort.This interview with Diana Whitten, director/producer of Vessel, aired on The Michael Slate Show on June 12. Read more
---
June 8, 2015
From a reader. Read more
---
June 3, 2015
If you are one of the millions and millions of people, especially men, who regularly watch porn, I strongly recommend you click on something else today: the new documentary, Hot Girls Wanted, which was released to Netflix on May 21, produced by Rashida Jones, and directed by Jill Bauer and Ronna Gradus. Of course, it's much better if you don't watch porn—but either way I strongly recommend this film. Read more
---
May 25, 2015
by Li Onesto
Rape is about power and control. It's about humiliation and degradation. It's the use of force to brutally violate a person's body. Rape is one particularly horrific abuse of prisoners. This is done by prison guards, particularly in women's prisons, and also carried out by inmates against other inmates. Read more
---
March 2, 2015
Any rape of anyone is a horrific crime, and the massive rape of women throughout the world and over many centuries is one of the biggest ongoing crimes of this whole way of life. Everyone with an ounce of justice and morality must join the fight to make this STOP. Read more
---
May 11, 2015
(From my long, tired days at a women's college buzzing with too much hope for an election we wouldn't be able to vote in less than 100 years ago, make that 40 years ago when the Voting Rights Act enforced the rights of Black people to vote, oh wait so many people are still barred from the voting booth...) Read more
---
Updated June 24, 2015
#RaiseHellJ1
On July 1st, as abortion clinics are forced to close in Texas and Tennessee and when new unprecedented new abortion restrictions go into effect in Kansas... Join in defiant protest.
We will stand, side by side, carrying the faces of women who died from lack of safe, legal abortion. We will read their stories. We will wear faux bloody pants, representing the women who lost their lives, and those who will die, as a result of the escalating assault on this basic right. We will RAISE HELL and demand that women be treated as full human beings!
Abortion On Demand and Without Apology!
Forced Motherhood is Female Enslavement!
---
June 27, 2015
---
June 13, 2015
From StopPatriarchy. On June 12, a three-judge panel of the Fifth Circuit Court of Appeals in New Orleans ruled to uphold Texas law HB2, the draconian anti-abortion law, that already led to the largest wave of clinic closures since Roe v. Wade. This 100% illegitimate, immoral law will have devastating effects on the lives of women. This means that all but eight abortion clinics in the entire state will be forced to close. Read more
---
April 11, 2015
The "Unborn Child Protection from Dismemberment Abortion Act" recently signed into law in Kansas uses deliberately false, unscientific, and inflammatory language to ban the safest and most medically accepted procedure for abortions in the second trimester. Doctors in Kansas who provide this procedure for their patients will now face misdemeanor or felony charges. Read more
---
May 25, 2015

On May 20, over 300 people gathered at New York City's Union Square for Say Her Name—a vigil to shine a light on the murder and abuse of Black women, including trans women, by police and other law enforcement authorities. Read more
---
May 25, 2015
After the May 20 #SayHerName vigil to remember Black women and girls who have been murdered by police, Sunsara Taylor interviewed one of the organizers, Kimberlé Crenshaw. Read more
---
June 8, 2015
From a reader: Past weekend Revolution Books, one of the best bookstores in the world, was having a fundraising weekend as part of the first phase of raising money to save the bookstore and moved it to a new location. A big part of this weekend was a three day open mic—performances and a big used book sale. A group of people after the first day of performances went out to have dinner and chat, the night had been fun and powerful in different ways, and we were about to continue with that energy. Read more
---
June 1, 2015
From a member of the NYC Revolution Club and Stop Patriarchy Read more
---
May 25, 2015
This documentary takes you on board as Women on Waves take to the high seas to bring women the knowledge and tools to help them exercise this "most basic right" to control when and if they have children. Read more
---
April 6, 2015
On March 31, 80 women at the Karnes immigration detention center in south Texas began a hunger strike. Most of the women and their children imprisoned in Karnes were arrested trying to enter the U.S. last summer when tens of thousands of people fled their Central American homelands to escape the devastation wracked on those countries by U.S. imperialist domination, and the horrific violence that plagues them. Some have been in Karnes for as long as 10 months now. Read more
---
April 6, 2015
What does it mean that in the United States, in 2015, some 20 states (including Indiana) either passed or are considering laws that ban cities or towns from passing ordinances prohibiting discrimination against LGBT people? Read more
---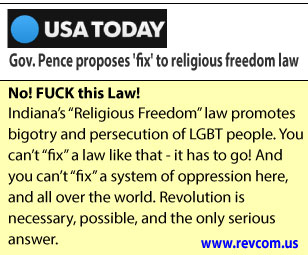 ---
January 12, 2015
from an activist in Stop Patriarchy. On January 23, four Black Christian fascist preachers have the nerve to hold their "StandingUp4Life" event in Oscar Grant Plaza in Oakland (re-named in the memory of one of the thousands of unarmed Black men who have been killed by the police), rolling out their anti-woman agenda under the guise of saving Black lives. These reactionary preachers spread the lie that abortion is genocide. Black women choosing abortion is not genocidal! In many cases, it is a choice they can make that allows them to regain their humanity in a world of rape, racism, and degradation. Read more
---
---
April 8, 2015
Farkhunda, a 27-year-old Afghan woman accused of burning the Koran, was brutally beaten to death on 19 March by a lynch mob in the presence of a group of police who did nothing to stop them. The murder took place near the famous Shah-Du-Shamshaira mosque and shrine in the centre of Kabul, only a few hundred metres from the presidential palace. Read more
---
March 26, 2015
by Sunsara Taylor. On Sunday evening, March 22, the only remaining abortion clinic in the entire state of Mississippi, the Jackson Women's Health Organization (JWHO), was vandalized. This is an act of terror not only against the clinic's brave staff who put their lives on the line every single day to serve women, but also against all the women of Mississippi and women everywhere. When women are denied the right to abortion and forced to have children against their will, they are enslaved. Read more
---
From the Michael Slate Show
March 23, 2015
---
March 9, 2015
---
February 9, 2015
by Rigel Kane
Fifty Shades of Grey is the exact opposite of what we need—in fact, it not only smacks of thousands of years of tradition's chains on women, it is part of a ramped-up and even more perverse revenge being waged against women in every sphere of society. Read more
---
February 21, 2015
by Rigel Kane. A lot of people see nothing wrong with porn. They say it's just a "fantasy." If you believe that or are not sure how to answer that when you hear it, I have three things to say to you. Read more
---
March 5, 2015
---
March 3, 2015
by Sunsara Taylor
On Saturday, February 28, I joined with members of the New York City Revolution Club, StopPatriarchy.org, and others to protest the first ever NYC Porn Film Festival. We headed out in the biting cold because this festival represented a further step in the mainstreaming of pornography, even as pornography more and more concentrates violence and hatred against women. Read more
---
March 9, 2015
from a reader. Read more
---
March 3, 2015
---
March 2, 2015
On January 24, 2015, a young woman, Shaimaa al Sabbagh, described as a mother, poet and leftist, was shot by police near Cairo's Tahrir Square. Read more
---
February 19, 2015 (Originally posted February 21, 2014)
Many people ask those of us involved in Stop Patriarchy, so you are FOR abortion and AGAINST porn!? How can that be!? This really trips people up. So in this piece I will go at how I, as a revolutionary involved in this movement, see these questions, how they interpenetrate, and why they both are key in defeating this entire war on women. Read more
---
February 23, 2015
Revcom.us/Revolution writer Sunsara Taylor recently interviewed Dr. David A. Grimes, whose book Every Third Woman in America: How Legal Abortion Transformed Our Nation (Daymark Publishing) came out in December 2014. Read more
---
International Women's Day March 8, 2015!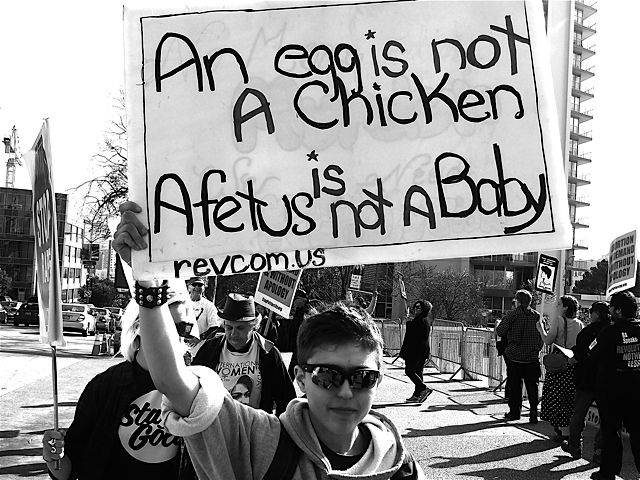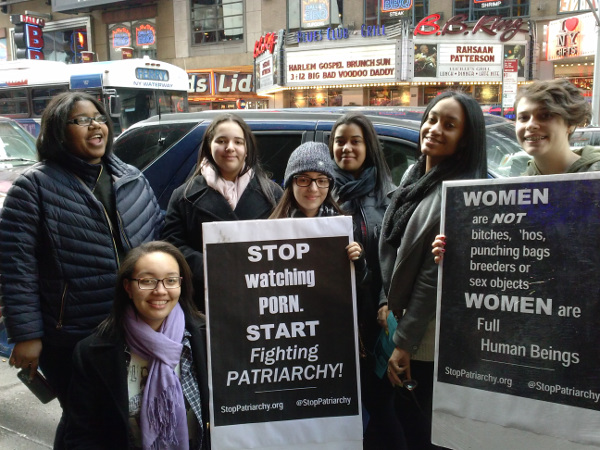 » International Women's Day 2015: Bold Actions Bring the Fight for Liberation of Women into the Street
March 16, 2015
New York City: Battle Cry on International Women's Day—"Rise up for the women of the world!"
San Francisco: Broad Coalition of Forces Stands Up to Catholic ArchBIGOT Cordileone
Stop Patriarchy Takes the Challenge to Saint Mary's Cathedral: Outside and In
A conversation: Getting Groceries at the End of International Women's Day
» Call for International Women's Day 2015
» From revolutionaries in Iran and Afghanistan on International Women's Day
---
March 9, 2015
---
March 2, 2015
by Sunsara Taylor
When Patricia Arquette won the Oscar for best supporting actress for her role in Boyhood, she used part of her 90 seconds on stage before tens of millions to speak about something much bigger than herself. Read more
---
February 9, 2015
On Valentine's Day, couples and friends across the country will go to see the movie based on the bestseller, Fifty Shades of Grey. This is NO GOOD. Read more...
» Protesting 50 Shades of Grey for Promoting Violence Against Women, Day 1 by Sunsara Taylor
» Fuck 50 Shades. Fuck rape culture. Fuck the grey area. from a reader
» Download StopPariarchy's flier to distribute at protests (PDF)
» Get connected with Stop Patriarchy, DIY 50 Shades of Grey Protest Kit
---
January 22, 2015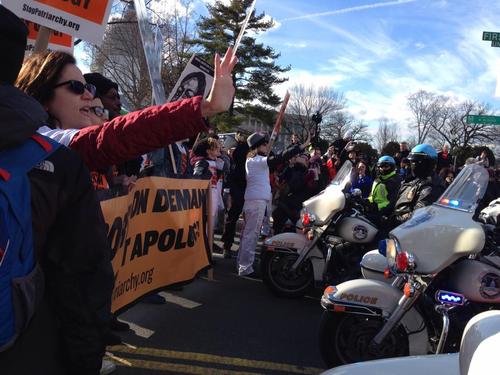 Photo: StopPatriarchy
The March for "Life" in DC was brought to a halt today! Brave protesters raising the slogan "Abortion on demand and without apology!" STOPPED the march for forced motherhood, and eight members of Stop Patriarchy were arrested. Read the press release
---
A Message from Stop Patriarchy in the Wake of STOPPING the March for LIES for the first time in 42 years
January 24, 2015
---
January 12, 2015
On the first day of the new session of Congress, Republicans introduced a measure to ban abortions after 20 weeks. Branded as the "Pain-Capable Unborn Child Protection Act," this move is vicious in its own right, and part of a whole war on women that has, as a leading edge, forcing women to bear children against their will in all circumstances.
The "pain capable" branding is utterly unscientific. A fetus is not a human being and doesn't experience pain, but women are human beings and the pain of being forced to bear a child against one's will is horrific. Read more
---
February 23, 2015
from Sunsara Taylor. Read more
---
February 23, 2015
Last week, a bill was passed in Arkansas, the "Intrastate Commerce Improvement Act," which in effect is a preemptive move that prevents any anti-discrimination laws from being passed in that state that protect the rights of gay people. Read more
---
Updated February 2, 2015
Letters to Stop Patriarchy from across the country, in the wake of national Roe v. Wade actions January 22-24

January 29, 2015
---
February 2, 2015
This January, for the first time in a long time, there was politically confrontational, in-your-face protest right up against the fascist anti-abortion woman-haters. This took place in cities around the country—Chicago, Austin, Cleveland, San Francisco, and elsewhere—but with particular defiance in Washington, DC. Read more
---

Download PDF | JPG | JPG to Tweet
---
January 22, 2015
Click to share
---
January 20, 2015
---
Strategic Thoughts on Building the Movement for an Actual Revolution That Breaks ALL the Chains
January 6, 2015
---
Video from StopPatriarchy.org
Click here to share this video
Click here for Social Media Kit at StopPatriarchy.org
---
Updated January 16, 2015
A young leader in StopPatriarchy.org, who led the dramatic street theater for abortion rights that can be seen in the video above, was arrested when she and another woman repeated this action mid-day Tuesday, January 13, 2015. Read more
---
December 22, 2014.
by Sunsara Taylor
We will NOT be silent in the face of hatred. We will NOT stay home as anti-abortion, woman-hating fascists parade through the streets. We will stand up for abortion rights and defeat the war on women. Read more
---
January 5, 2015
---
---
January 12, 2015
Stop the War on Women! Protest in Washington DC and San Francisco (4-minute video in Spanish)
---
January 12, 2015
From 2014: Year in Review. Read more
---