Cornel West Interviews Bob Avakian:
Get the Word Out, Spread the Link All Over, Organize Listening Parties
This weekend and in the coming week, the revolution will be crackling on the airwaves. The Smiley & West radio show on PRI (Public Radio International) will be airing an interview that Cornel West recently conducted with Bob Avakian. And an online podcast is now available.
This interview is sharp and wide-ranging, challenging and inspiring. Cornel West, a prominent public intellectual, engages with Bob Avakian, the leader of the revolution in this country. The importance of this exchange getting out broadly into society should not be underestimated–and in fact, the reach and impact of this interview must be maximized in a thousand ways.  
Right away:  
People should get the word out to contacts, friends, co-workers, and e-lists.
People should be posting links to the interview on blogs, FaceBook pages, and use Twitter and other social media to extend the reach and impact of this interview. 
People can organize listening sessions of the on line podcast of the interview when it is aired in local areas. A version is also being aired on hundreds of stations across the country. (Get Station schedules here.)   Get together in neighborhoods, in dorms, elsewhere.
Revolution newspaper needs to learn about the buzz generated by the interview: the discussion and controversy it is touching off, what people are asking about, ideas people have for spreading the interview and using it as a way to introduce people to the revolution and its leader.  
Media inquires can be directed to (917) 741-6716.
by Carl Dix
This year October 22 needs to be a day marked by varied forms of determined resistance that bring together those who bear the brunt of the brutality and murder this system enforces on the oppressed with people throughout society who don't want to live in a society where people face this kind of injustice because of the color of their skin or because of their country of origin.
See photos from past years' October 22 protests. (PDF)
Also in this issue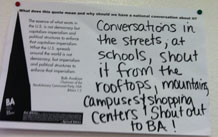 Week of October 1
A regular feature that gives an ongoing picture of the multifaceted campaign BA Everywhere, and the variety of ways that funds are being raised and the whole BA vision and framework brought into all corners of society.
Knocking on Doors to Raise Money and Make Connections
BAsics 3:22 at University of Hawaii
---
Voting for either candidate means voting for a system that carries out unjust executions, official and unofficial.
---
Note to readers on print schedule
Because of the introduction of the new revcom.us website with this issue of Revolution, we are making a change in our publication schedule. No print issue of Revolution will appear in the weeks of October 8 and October 15. The next print issue, #283, will appear in the week of October 22. Check regularly at revcom.us for updates.
---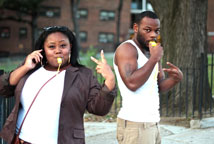 Photo: Jamel Mims/stopmassincarceration.org
From a man in Harlem: "… I believe September 13 was a day of the beginning of people joining to stop being silent"
---
---
---
---
To urgently transform the alarming financial state of Revolution, we are calling for focused activity this month of October to forge a network of sustainers.
Click here to sustain/donate to Revolution
In a world marked by profound class divisions and social inequality, to talk about "democracy"—without talking about the class nature of that democracy and which class it serves—is meaningless, and worse. So long as society is divided into classes, there can be no "democracy for all": one class or another will rule, and it will uphold and promote that kind of democracy which serves its interests and goals. The question is: which class will rule and whether its rule, and its system of democracy, will serve the continuation, or the eventual abolition, of class divisions and the corresponding relations of exploitation, oppression and inequality.
BAsics 1:22
As we go into October, let's gear up to get out this month's BAsics quote far and wide as part of the BA Everywhere campaign to raise big money to get Bob Avakian's vision and works into every corner of society.
---
When Barack Obama was elected a lot of Black people had a lot of hope. But what Black people have got is enormous pains.
---
NOW IN PRINT
To order: Send $6 plus $2.50 for shipping and handling to: RCP Publications, P.O. Box 3486, Merchandise Mart, Chicago, IL 60654
New and Breaking News...
October 14, 2012
October 15, 2012
October 14, 2012
Click for assembly points.

October 14, 2012
October 14, 2012
October 10, 2012
Coming Events at Revolution Books