New from Bob Avakian
Excerpt from a recent talk.
Getting this interview—which gives a living sense of this leader—broadly out into society, and fundraising as we do so, is critical to introducing and letting people all over this country and the world know about Bob Avakian. Right now, it's time to put this at the center of holiday plans already in process.
by Alan Goodman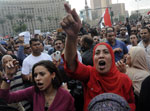 Photo: AP
Massive protests are sweeping Egypt, and many people who are part of them have aspirations for real liberation from oppression. At the same time, right now the terms of what is possible in Egypt are far too much defined by the interests of competing oppressive agendas, and a whole other way is needed to liberate Egypt.
---
Also in this issue
Manning, accused of leaking classified U.S. documents exposing U.S. war crimes, has been imprisoned for over two and a half years.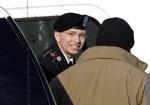 Photo: AP
Correspondence from "a former prisoner who is now dedicated to the emancipation of humanity"
I recently went back over the interview with BA… I started this particular reading of the interview with an intention to deepen my grasp of its sweep and depth "in its own right." But as I read, I was struck by its direct relevance to some particular problems that the movement for revolution (and those working to lead it forward) confront right now.
Shamiur Rahman, a 19-year-old American citizen of Bangladeshi descent, said at first he thought he was doing important work in protecting New York City and considered himself a hero. He came to see his work as "detrimental to the Constitution."
In an echo of the racist vigilante murder of Trayvon Martin in Sanford, Florida, earlier this year, a white man shot dead an unarmed 17-year-old Black youth on November 23 in Jacksonville, Florida.
Excerpts from interview with Alan Goodman on The Michael Slate Show on KPFK radio.
WBEZ in Chicago recently cancelled the Smiley & West radio program—one of the few progressive radio shows in the whole country.
Part 1 of interviews with people abandoned by the government after the storm.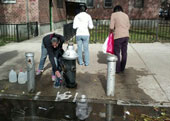 Photo: Special to Revolution
We Won't Go Back!
Abortion on Demand and Without Apology!
Defeat the War on Women!
Violence against women is not simply due to the particular culture or religion of any particular people, but deeply engrained in the culture of all class societies. But the imperialists report cases of violence against women in other parts of the world to justify military invasions, promote racism and/or denigrate a particular religion, culture or nation.
Publication of the book Master of the Mountain: Thomas Jefferson and His Slaves, by Henry Wiencek, has sparked a heated controversy among scholars, journalists, and others.
New and Breaking News...
In a world of vicious exploitation, brutal oppression, and environmental devastation, a new stage of the communist revolution, based on Bob Avakian's new synthesis of communism, is fighting to be born. One essential component of this is that Revolution newspaper and revcom.us have the financial resources to survive!
REVCOM.US – SPREAD THE WORD EVERYWHERE!
Now available: downloadable palmcards to post and share online.
For WEB postables and print PDFs of the front cover, back cover, and centerfold of Revolution go to Post This!
NOW IN PRINT

To order: Send $6 plus $2.50 for shipping and handling to: RCP Publications, P.O. Box 3486, Merchandise Mart, Chicago, IL 60654 or order online.

Coming Events at Revolution Books