Announcing the Premiere of a film of a major Talk by Bob Avakian in the Fall of 2012:
"Yes, this is a film, but that is not its essence. This is a daring, substantive, scientific summoning to revolution. 6+ hours that can change how you see the world and what you do with the rest of your life. Is this hype? No."
--From one of the filmmakers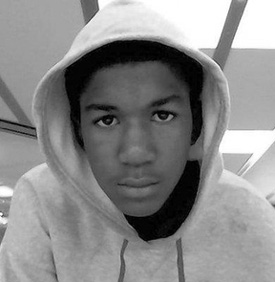 Think about what the world has been like in the past year – since Trayvon Martin was murdered. This system has continued to steal lives here and around the world. Nothing less than revolution is what's needed to put an end to this. And in that light that we must demand justice for Trayvon, and wage that struggle as part of building a movement for revolution.
Highlights from the many crimes of Obama's pick as new CIA chief—from overseeing renditions and advocating for torture to bringing the U.S. "kill list" to Obama each week.
Also in this issue
One in three women on the planet will be raped or beaten in her lifetime. Just think about this horror: one billion women who are viciously violated in today's world. On Thursday, February 14, people across the U.S. and around the world will be responding to a call from the V-Day movement for "ONE BILLION women and those who love them ... to WALK OUT, DANCE, RISE UP, and DEMAND an end to this violence."
By 2014, Obama will have deported over two million people—more in six years than all the people deported from the U.S. before 1997.
Correspondence from a team of Revolution paper sellers who have been going out to Steubenville, where the gang rape of a 16-year-old woman has sparked outrage and protests.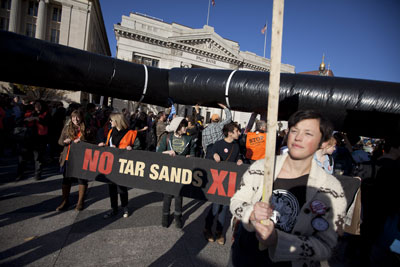 Photo: AP
Forward on Climate, billed as the "largest climate change rally in history," is planned for February 17 in Washington, D.C. and is expected to draw tens of thousands to protest against the Keystone XL pipeline that will carry very polluting oil.
A memorial inscribed with the names of 504 people stands in the Vietnamese village called Son My. On March 16, 1968, these 504 people died sudden, violent deaths at the hands of "Charlie Company" of the U.S. Army's Americal Division. Almost all the dead were women, elderly, and children.
A recently released "white paper" from the Justice Department reportedly summarizes and whitewashes Obama administration's legal justification for assassinating U.S. citizens without any trial, simply by presidential decree. What's at stake here is that if the U.S. government can do this to U.S. citizens, the people who these policies are supposed to "protect," that clears the ground for far greater crimes against the people of the world.
The U.S. has carried out and is continuing to commit monstrous crimes in the name of opposing Islamic fundamentalism. The following points are crucial in getting at the reality behind this imperialist justification.
New and Breaking News...
February 11, 2013
In the midst of the massive manhunt for former LAPD officer Christopher Dorner, his accusations and depictions of racist brutality and discriminatory practices of the LAPD have impacted different corners of society.
Premieres of BA Speaks: REVOLUTION— NOTHING LESS!
New York:
Saturday, March 16, 1 pm
AMC Magic Johnson Harlem 9 Theater
2309 Frederick Douglass Blvd. (124th Street)
Harlem, NYC
Chicago:
Saturday, March 16, 1 pm Ferguson Hall at Columbia College
600 S Michigan Ave. (Harrison & Michigan), Chicago, IL.
Los Angeles:
Saturday, March 16, 1 pm, LA Theatre Center,
514 S. Spring St.,
Los Angeles, CA 90013.
Check back here for information about premiere showings in other cities.
"RCP is the only true communist party in the U.S., no bullshit, no compromises."
—a reader committing to regular monthly support
Coming Events at Revolution Books