Drive Out the Fascist Trump Regime!
Trump Attacks Syria: Fascism Bludgeons...Democrats Cheer
REFUSE FASCISM, DON'T CONCILIATE WITH IT!!!
Trump and the U.S. Don't Give a Damn About Children
Trump justifies his order to attack Syria: "Even beautiful babies were cruelly murdered in this very barbaric attack. No child of God should ever suffer such horror." Trump—and the rest of the U.S. rulers—now cares about barbaric murders of kids?
See here some of the horrors that the U.S. has inflicted on innocent children—this is what the U.S. imperialist empire does around the world.
Download animated gif of this slideshow and spread on social media
Chicago: Look people, we need an ACTUAL revolution
From the Front Lines—
Chicago Revolution Club On the Move
"A better world is possible"—clip from Revolution: Why It's Necessary, Why It's Possible, What It's All About, a film of a talk by Bob Avakian given in 2003 in the United States.
If you want to get a deep societal analysis of the horror we face and the possibility of a whole different way, you need to get into Bob Avakian...
To understand the roots and the dynamics of Trump's election, get into these two pieces by Bob Avakian: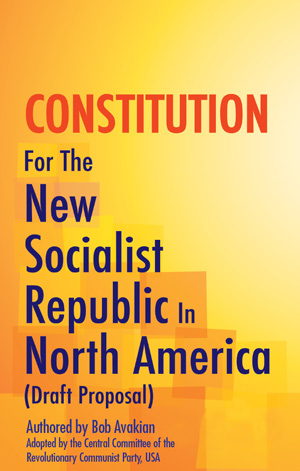 A Radical Step Into the Future
Authored by Bob Avakian, and adopted by the Central Committee of the RCP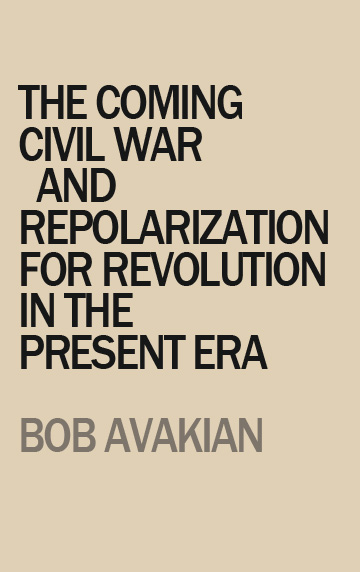 March-September 2005. Excerpts drawn from conversations and discussions, as well as more formal talks. Also available as a pamphlet (RCP Publications, 2005)
Is there value to voting? Can voting stop fascism?
A selection from REVOLUTION AND RELIGION: The Fight for Emancipation and the Role of Religion; A Dialogue Between CORNEL WEST & BOB AVAKIAN. See full film.
On the Importance of Science and the Application of Science to Society, the New Synthesis of Communism, and the Leadership of Bob Avakian
An Interview with Ardea Skybreak
Available for download as PDF
Read this excerpt from the Interview:
A Scientific Assessment: The World Today Is a Horror for the Majority of Humanity—And That Can Be Radically Changed
THE NEW COMMUNISM by Bob Avakian
America Was NEVER Great! This Is What America Does!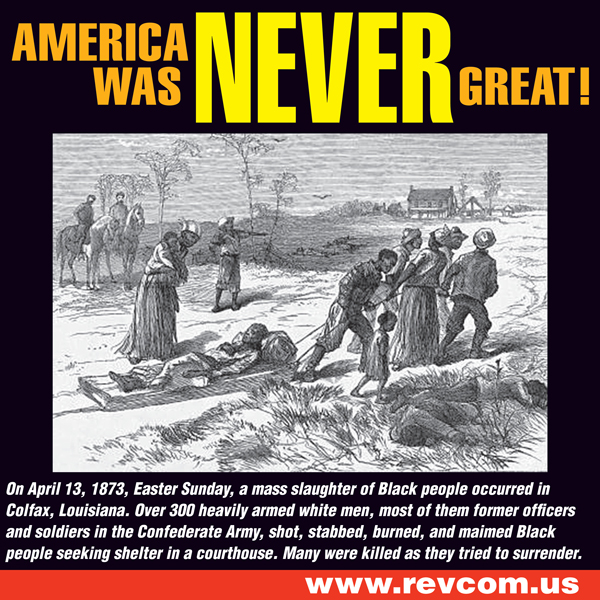 See more graphics HERE....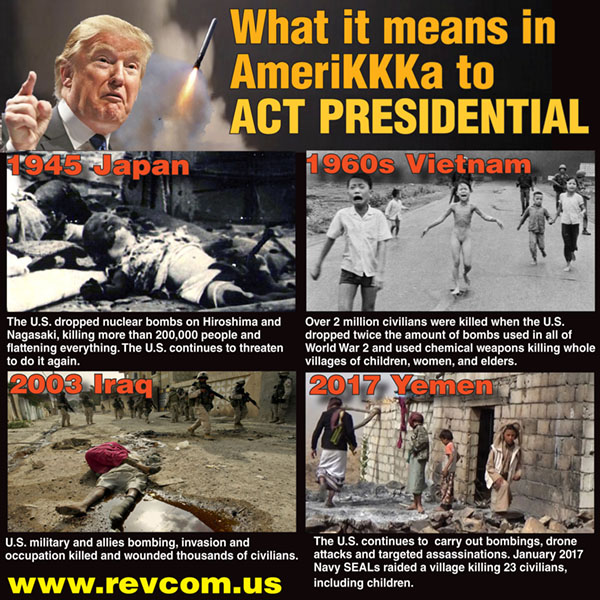 I Want to Be Part of the Movement for Revolution—What Do I Do?
To learn more about and get involved with the movement to prevent Trump from consolidating fascism, click HERE
To learn more about and work with the Revolution Club, click HERE
To learn more about the Revolutionary Communist Party, click HERE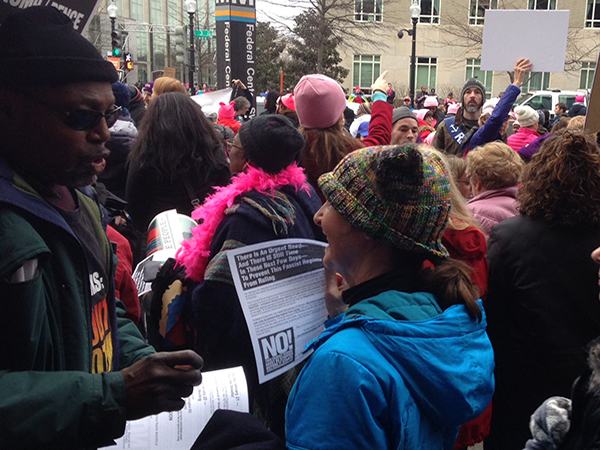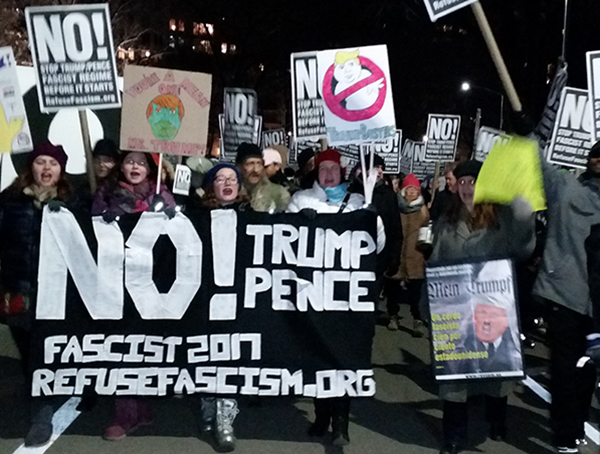 Also in this Issue
April 15, 2017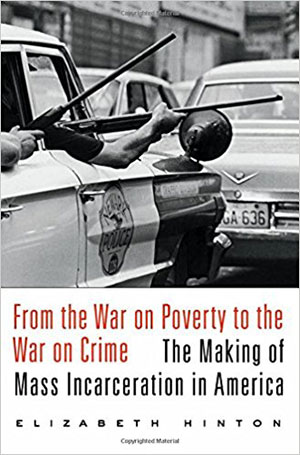 Think We Should Go Back to the "War On Poverty"?
This Book Shows How It Was A War All Right—On the Poor
April 16, 2017
April 10, 2017
April 10, 2017
April 8, 2017
A RefuseFascism.org Teach-In
What is fascism . . . What it means for humanity that the Trump/Pence Regime is fascist
And, Why It Must Be Driven Out.
A talk by Andy Zee, Advisory Board of RefuseFascism.org
April 3, 2017
April 6, 2017 A Report on Leg One of the National Organizing Tour

Read more
April 3, 2017
by Sunsara Taylor
Carl Dix Calls Out Lackeys for Trump-Pence Regime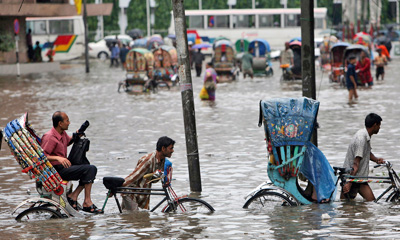 by Toby O'Ryan
March 27, 2017
April 3, 2017
For more graphics for social media, click HERE
Important Publications and Media
WWW.REVCOM.US/REVOLUTION NEWSPAPER brings alive a scientific analysis of major events in society and the world—why they are happening, how different events and developments relate to each other, how all this relates to the system we live under, where people's interests lie in relation to all this, how revolution is in fact the solution to all this and what the goals of that revolution are, how different viewpoints and programs relate, positively or negatively, to the revolution that is needed, and how people can move, and are moving, to build toward that revolution. Revcom.us/Revolution is the guide, the pivot, the crucial tool in drawing forward, orienting, training, and organizing thousands, and influencing millions—fighting the power, and transforming the people, for revolution—hastening and preparing for the time when we can go for the whole thing, with a real chance to win.
Subscribe to revcom.us | Donate to/Sustain revcom.us | Send your correspondence to revolution.reports@yahoo.com
A Statement from the Revolutionary Communist Party: ON THE STRATEGY FOR REVOLUTION

Volunteers: Get Revolution into the Hands of Thousands During the 10 Days of Resistance
Revolution newspaper will come out with a new English/Spanish print edition on April 18/19—featuring the Call to Action from Refuse Fascism, the work of Bob Avakian, an excerpt from the interview with Ardea Skybreak, and much more. It's crucial for this paper to reach thousands of people in many corners of this country who need to know about the revolution and its leadership. This can only happen if many, many volunteers join in the effort. Be part of getting this newspaper out throughout the Basta Ya, Enough! 10 Days of Resistance, beginning at the April 22 Marches for Science across the country. Then get this paper into the hands of all those who are protesting and resisting at the April 29 People's Climate March, April 23-24 Holocaust Remembrance Day and through to May 1, when people will stand up against the attacks on immigrants. Volunteer and place your order now for a lot of papers with:
RCP Publications
773-227-4066
rcppubs@hotmail.com
BA on Internationalism and Bringing Forward Another Way
Revcom.us—where you go to scientifically understand and radically change the world
Your donations mean revcom.us can play its critical role at what is truly an historic moment.  
From Insight Press, March 28, 2017:
Bob Avakian's THE NEW COMMUNISM and the book Science and Revolution, an interview with Ardea Skybreak, are two key works that urgently need to get into the hands of many, many people. Now the publisher, Insight Press, has made available beautiful full-color promotional material for the two books. We call on revcom.us followers to get these out very broadly—at the upcoming major marches for science, the environment, and immigrant rights, and everywhere people are raising deep questions and being thrust into political life.
Go here for info on how to get these.
Notices to our Readers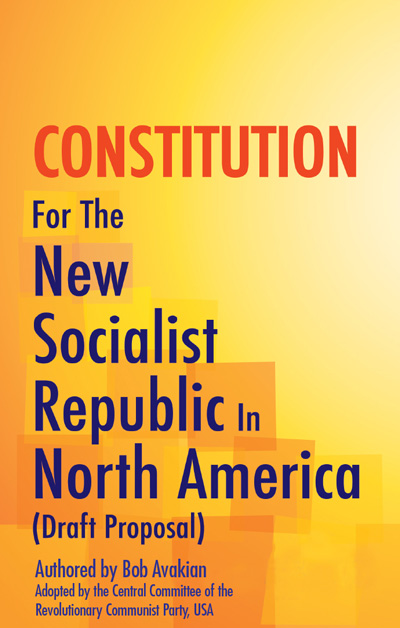 New "Authored by" Stickers for the Constitution for the New Socialist Republic in North America
Get SCIENCE AND REVOLUTION Out to Scientists
In the face of the Trump/Pence regime's fascist attacks on science and critical thinking, there is a lot of outrage and ferment among scientists and in the scientific community. If you're a follower of revcom.us, we encourage you to get out to universities, science labs, scientific conferences, and elsewhere to get the book Science and Revolution, an interview with Ardea Skybreak, into the hands of scientists and professors and students in the sciences.
To revcom.us readers: Now is a crucial time to join in the protests and other events where masses of people all over are acting against the fascist outrages by the Trump/Pence Regime—especially get out to the campuses! Take with you palm cards with the slogan "NO! In the Name of Humanity, We Refuse to Accept a Fascist America" and with the quotes from Bob Avakian (BA) on truth and the approach to understanding reality (epistemology).
Download Palmcards and get out all over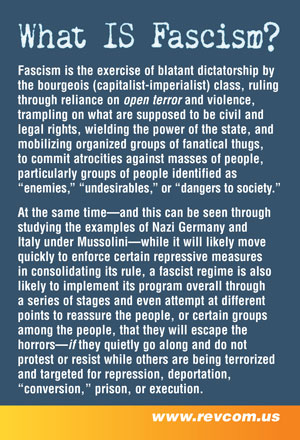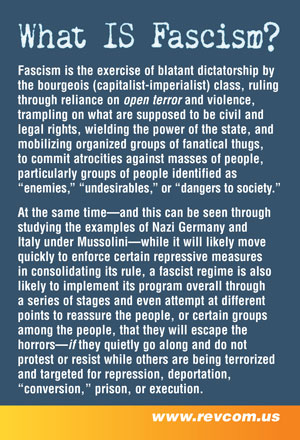 Download: PDF | JPG | Text version for sharing
Seen on the Walls of Your City
Now a Pamphlet!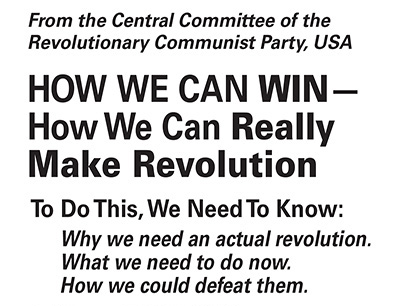 Read the entire HOW WE CAN WIN—How We Can Really Make Revolution HERE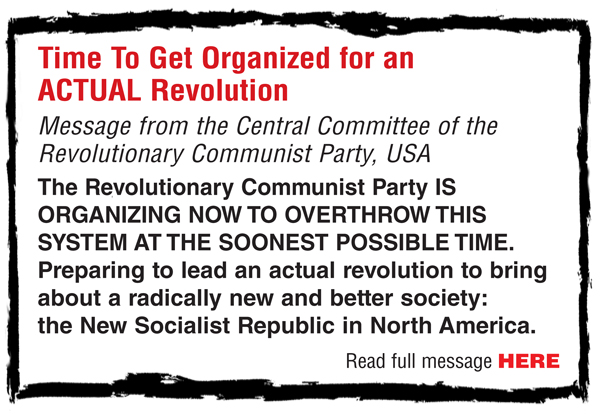 Downloadable PDFs for printing: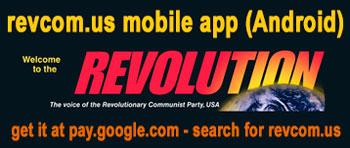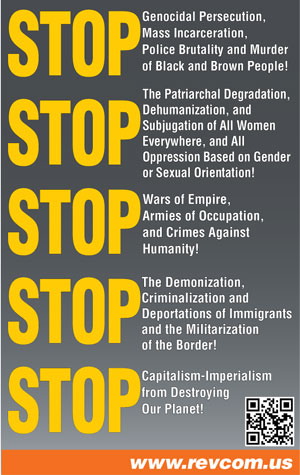 Copy these posters and distribute everywhere, especially on the campuses.
Black & White | Color
VOLUNTEER FOR REVCOM.US
» Confront the Actual History of the USA
Contribute to the "American Crime" Series
Updated August 25, 2016
» What it means to be a volunteer for revcom.us
Attention readers: Send in reports on protests, including photos and links to videos, to revcom.us/ Revolution newspaper at revolution.reports@ yahoo.com.