Prepare the Ground, Prepare the People, and Prepare the Vanguard—Get Ready for the Time When Millions Can Be Led to Go for Revolution, All-Out, With a Real Chance to Win.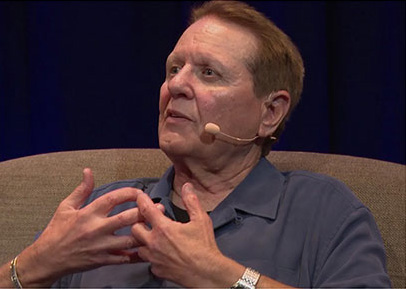 Bob Avakian (BA) is the most important political thinker and leader in the world today.
Read more NEW: Download 11x17 poster | Download 8.5x11 leaflet
by Bob Avakian, Author of
The New Communism
Infantile Expressions of Outrage, or Accommodation to This Monstrous System, Are Not the Only Alternatives
CONSPIRACY THEORIES, FASCIST "CERTITUDE," LIBERAL PARALYSIS, OR
A SCIENTIFIC APPROACH TO CHANGING THE WORLD
by Bob Avakian
Now available:
Many millions of people put their hopes for a better, more just world into the candidacy of Bernie Sanders. Now, Joe Biden—a war criminal... hack for predatory capitalist interests... conciliator with segregation... one of those responsible for mass incarceration... is on track to win the Democratic nomination... Many of you who put your hopes in Sanders feel bereft.

With so much in the balance for humanity, we are reprinting and extending to you this invitation from Bob Avakian, first published in 2012.
The RNL Show—Revolution, Nothing Less!
Episode 4 of The RNL Show—Revolution, Nothing Less! is now available on YouTube: Bob Avakian on Science and How Real Socialism Would Handle Pandemics.
An excerpt of a speech from Bob Avakian that takes us deeper into the scientific method. Then a reading of Communique #4 from The Revcoms.
Episode 3 of The RNL Show—Revolution, Nothing Less! is now available on YouTube. Featuring: COVID-19 and prisoners; Bob Avakian's advance of the science for an actual revolution; and an update from Dr. Phil Rice, Chair of Emergency Medicine at North Shore Medical Center in Salem, Massachusetts.
The Coronavirus Pandemic
Communiqués from the Revcoms
Communiqué #5: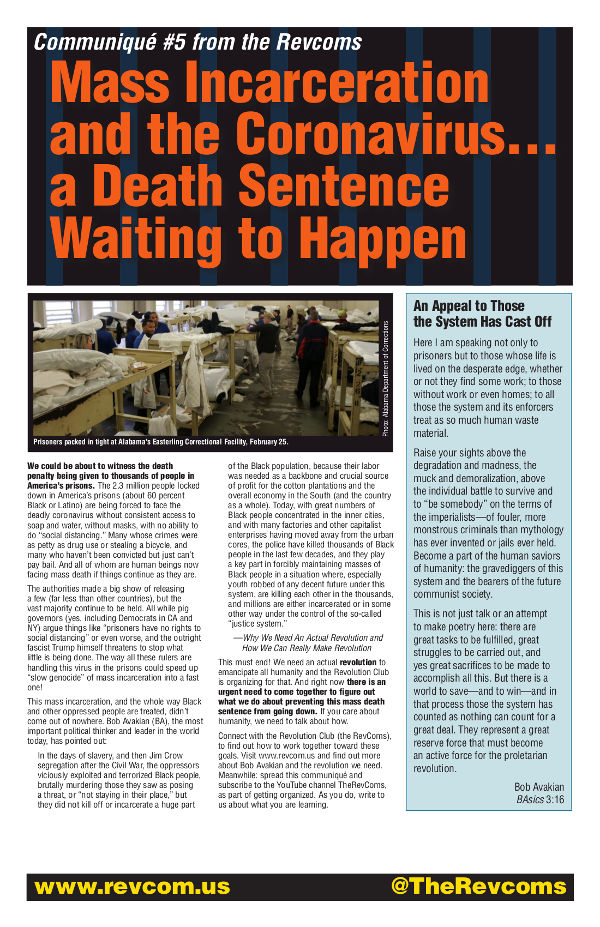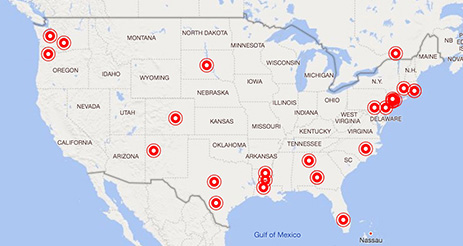 Sites of protests by prisoners and detainees around the country
Download this poster:
Ten Ways the Trump/Pence Fascist Regime Has Blood on Its Hands From the Coronavirus
THE CORONAVIRUS PANDEMIC — A Resource Page (Updated April 12, 2020) »
by Raymond Lotta
A Slavoj Žižek performance circulating on the internet needs a brief comment and rebuttal. Žižek combines demagogy with dishonesty to attack communism, Bob Avakian's new communism...
The Get Organized for an ACTUAL Revolution Tour
"You Think You're Woke... But You're Sleepwalking Through A Nightmare —This System Cannot Be Reformed, It Must Be Overthrown!"
In the Name of Humanity,
We REFUSE to Accept a Fascist America
In a February 3, 2020 article, "Impeachment Protestors Call for 'Nonviolent Revolution' To End U.S. 'Fascism,'" in The Federalist..., Krystina Skurk attacks the diverse grouping of #OUTNOW! demonstrators calling for mass mobilization to demand the removal of the Trump/Pence fascist regime, and she especially targets those among the demonstrators who are advocates of the new communism brought forward by Bob Avakian (BA)...
Other News
To all our friends:
As we confront the coronavirus pandemic along with the rest of the world — a global health crisis that prevents us from meeting in person — this online store will help us re-open RB when it's safe, and keep us all connected in our quest to understand and change the world.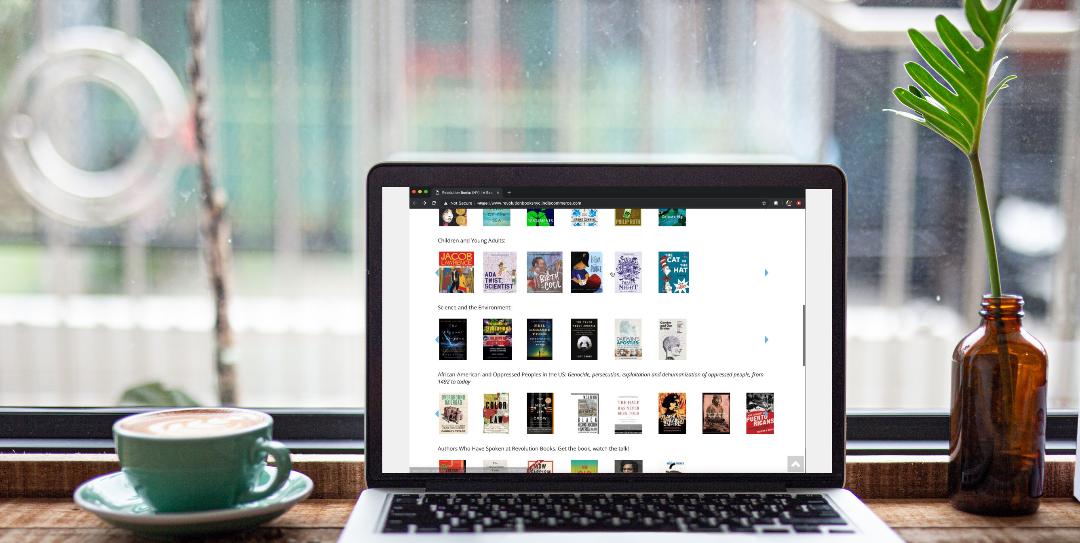 To know and change the world...
get into Bob Avakian (BA),
the leader of the revolution.
To know and change the world... get into Bob Avakian (BA), the leader of the revolution.
BA has developed a new communism, a thoroughly scientific method and approach that charts a pathway to human emancipation.
This column features timely work from BA – a "living lab" of probing reality and grappling with advancing the revolution.
Read on to find BA's foundational work that gives a more overall understanding of why we need a revolution, what that revolution is all about, and how we can really make that revolution and build a whole new society.
Highlighting
About Bob Avakian
Bob Avakian and THE NEW COMMUNISM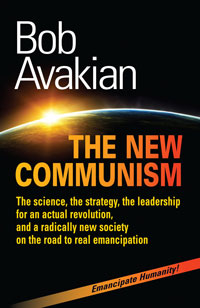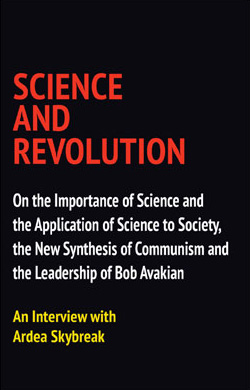 Updated prepublication PDF,
November, 2019
Read or download (searchable PDF)
Now also available in Spanish and in the journal Demarcations in these languages—English, Spanish, Farsi, Portuguese, German, and Turkish. The latter two are partial, and works in progress.
WWW.REVCOM.US/REVOLUTION NEWSPAPER brings alive a scientific analysis of major events in society and the world—why they are happening, how different events and developments relate to each other, how all this relates to the system we live under, where people's interests lie in relation to all this, how revolution is in fact the solution to all this and what the goals of that revolution are, how different viewpoints and programs relate, positively or negatively, to the revolution that is needed, and how people can move, and are moving, to build toward that revolution. Revcom.us/Revolution is the guide, the pivot, the crucial tool in drawing forward, orienting, training, and organizing thousands, and influencing millions—fighting the power, and transforming the people, for revolution—hastening and preparing for the time when we can go for the whole thing, with a real chance to win.
Subscribe to revcom.us | Donate to/Sustain revcom.us | Send your correspondence to revolution.reports@yahoo.com