If you are a member of the press interested in attending the November 15 Dialogue Between Cornel West and Bob Avakian, to cover it for the press, contact larryeverest@hotmail.com. Let us know what outlet you'll be reporting for.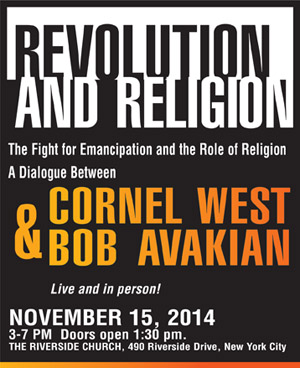 News and Commentary
Today!
FULL PAGE AD FOR the CORNEL WEST & BOB AVAKIAN DIALOGUE
in the NEW YORK TIMES page 11
Thursday, November 13 appeared on page 11
From the New York Amsterdam News:
A dialogue between Dr. Cornel West and communist leader Bob Avakian
November 13
by Herb Boyd
A dialogue between Dr. Cornel West, one of the nation's foremost public intellectuals, and Bob Avakian, the leader of the Revolutionary Communist Party, on the issue of "Revolution and Religion," is sure to be as lively as it is provocative. To witness how they will parry on the apparent contradiction of Avakian's politics of revolution and West's African-American prophetic tradition is, as the great James Baldwin wrote, worth the price of the ticket....

Carl Dix on the Cliff Kelly WVON 1690AM, radio show in Chicago, on November 12, talking about the Dialogue.
November 12
11/12/14: Carl Dix Discusses the REVOLUTION AND RELIGION Dialogue with Paul DeRienzo on Manhattan Public Access
From the Columbia Univ. Daily Spectator:
"Bob Avakian, Cornel West to talk revolution and religion"
November 7, 2014
"Two revolutionary and provocative minds will meet next Saturday as they debate both current and timeless issues, going head-to-head for four hours in a dialogue titled "Revolution and Religion: The Fight for Emancipation and the Role of Religion."
Carl Dix on The Michael Slate Show on KPFK discussing the November 15 Dialogue joined by other Host Committee members Saskia Sassen and David Zeiger, 10/31.
"What I like really about this dialogue is that it is not the typical dialogue. It is not the typical people. And it is not this very domesticated, careful mode of talking about where we're at and what we need. I think what both Cornel West and Bob Avakian are about is opening up new ground..."
- Saskia Sassen—Robert S. Lynd Professor of Sociology, co-chair Committee on Global Thought, Columbia University
Cornel West to host an historic event in New York City this month
YourBlackWorld.net, an influential online magazine devoted to news about and of interest to Black people ran an article on the Dialogue on 11/1 that included Cornel West's special YouTube invitation to the Dialogue.
Revolutionary Emancipation and Religion
November 5, 014
by Ron Jacobs
First published in Dissident Voice
"...Both men have spent their adult lives working for the emancipation of oppressed peoples. Both have been maligned and ridiculed…. Their motivation is similar to the motivation of those dedicated to human emancipation throughout history. Although their understanding of the spiritual may be situated in different spheres, both place their ultimate faith in humanity...."
Religion and Revolution: The Promise of a Fresh Look
SpearIt, Associate Professor, Texas Southern University—Thurgood Marshall School of Law. This article was originally published at Huffington Post on 10/20/14.
"For students of religion and students of revolution, the upcoming dialogue between Cornel West and Bob Avakian should be a valuable lesson. …[T]his meeting of the minds has tremendous potential to advance understanding on the relationship between religion and revolution, which conventional wisdom tends to hold as mutually exclusive...."
By Luke Foster, October 30, Columbia Spectator
"'Revolution and Religion: The Fight for Emancipation and the Role of Religion.' The block letters on the poster grabbed my gaze as I whirled around the banister of a Hamilton stairwell. The juxtaposition of the abstract nouns made me eager to hear Cornel West's views on prophetic Christianity.
For Ad Art and Promotional Materials click here
Media
FOR IMMEDIATE RELEASE
November 13, 2014

Ed Asner Says Cornel West and Bob Avakian Dialogue on November 15 is "Desperately Needed," in NY Times Full-page Ad Funded by Hundreds
Spokespeople Available for Interviews

A full-page ad featuring statements from Ed Asner; a Nobel Laureate; an abortion provider profiled in the NY Times Magazine; the President-Emeritus of Union Theological Seminary; and the parent of an African-American youth murdered by the NYPD was published in the Thursday print edition of the New York Times.
The ad announces a historic dialogue this Saturday, November 15 at The Riverside Church, NYC, Revolution and Religion: The Fight For Emancipation and the Role of Religion; A Dialogue Between Cornel West and Bob Avakian.
Asner states: "I have been deeply impressed by Cornel West's intelligence and his purity and to find him in dialogue with Bob Avakian, a fearless leader of the left is a consummation to be wished for. If hope and clarity can only come from this dialogue to lighten the dark times we live in, then I would wish this same dialogue will be played throughout the land. We need it desperately."
The Dialogue is an unprecedented encounter between the Revolutionary Christian Cornel West and the Revolutionary Communist leader Bob Avakian. Avakian is the architect of a new framework for revolution in today's world, and this will be a rare opportunity to see him live and in person. West is one of the foremost public intellectuals in the world and has been on the frontlines of the protests in Ferguson, MO. The two speakers will be addressing a topic—the fight for emancipation and the role of religion—that impacts the lives of billions.
Harold Kroto, who won the 1996 Nobel Prize in chemistry, sees the Dialogue going against "neo-McCarthyite pressure aimed at undermining rationality in the sciences and society." Donald Shriver, President Emeritus of Union Theological Seminary, sees the Dialogue focusing up the question: "can religion be a servant of justice rather than an enemy?" Nicholas Heyward, whose son was shot and killed by the NY Police Department, says that "anyone with deep concern about the future of this world needs to be there."
The ad was funded by hundreds of people—from professionals making individual donations to residents of Ferguson organizing bake sales.
---
FOR IMMEDIATE RELEASE
November 8, 2014
Press Contact:  Larry Everest, 212-691-3345, larryeverest@hotmail.com

A Dialogue between Cornel West and Bob Avakian on Revolution and Religion: The Fight for Emancipation and the Role of Religion
When: Saturday, November 15, 3-7 pm (doors open at 1:30 pm)
Where: The Riverside Church, 490 Riverside Drive, New York City
Why is one of the country's most esteemed, provocative, and deeply religious intellectuals dialoguing with the world's most radical revolutionary and important communist thinker? Why is this being supported by a Nobel Prize winner in chemistry, a former U.S. poet laureate, a Grammy award-winning musician, six Columbia professors, well-known theologians, and parents of young people killed by the police? Why are busloads of people coming from Ferguson, Chicago, Atlanta, and Harlem—poor people joined by students, artists and others?
This is a historic dialogue. The revolutionary Christian Dr. Cornel West and the revolutionary communist leader Bob Avakian will be addressing a question of great importance at a dire time in today's world.
"This is not the typical dialogue ... not the typical people. We're in a disastrous situation. We really need to focus on the horrors that are happening... a more radical way of looking at where we're at, where there are no easy remedies. What both Cornel West and Bob Avakian are about is opening up new ground."
Saskia Sassen—Robert S. Lynd Professor of Sociology, co-chair Committee on Global Thought, Columbia University
"Before we are all covered completely in the blood of other people's children, let us find other ways to be and do. This conversation with brothers West and Avakian will be an opportunity to explore other realms of thought, leading, hopefully, to other possibilities of Direction Change..."
Alice Walker, writer