Five courageous freedom fighters who put their bodies on the line to end the racist police policy of stop-and-frisk are set to go to trial beginning October 23 and October 30.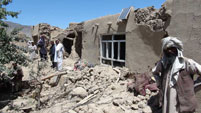 Photo: AP
Liberals have an Oedipal complex: It's not that they want to sleep with their mothers—it's that they willfully blind themselves.
Bob Avakian
Chairman of the
Revolutionary Communist Party, USA
From two young revolutionaries:

Far too many people—including those who consider themselves radicals and progressives and say that they want to change the world—choose to dismiss Avakian and his work without even the pretense of engagement: We Call Bullshit!
---
This Is the Imperialist System…
This Is What They Want You to Vote For
Old-school fascists or new-style liberals… capitalism-imperialism does what it does: crushes lives, destroys spirits and ruins the environment in the meat-grinder of exploitation.
Read more
A movement is building to spread the voice, vision, and works of Bob Avakian everywhere. But much more needs to be done... many more people need to be reached and drawn into this movement. This is a moment to renew our efforts and make new leaps.



So, included in this letter is $20.00 dollars.
$10.00 for the book BAsics and
$10.00 for the Bus Tour; BAsics.
I can't wait to see the bus tour come to each City in Texas—True!! but, it also needs our support for other States, like New York and all other areas.
In early October, the revolution crackled on the airwaves when the Smiley & West radio show on PRI (Public Radio International) across the country aired an interview that Cornel West recently conducted with Bob Avakian. An audio download of the interview is available online.
This interview is sharp and wide-ranging, challenging and inspiring. Cornel West, a prominent public intellectual, engages with Bob Avakian, the leader of a new stage of communist revolution. The importance of getting this exchange out broadly into society, and fundraising as we do so, should not be underestimated–and in fact, the reach and impact of this interview should be maximized in many different ways.
Also in this issue
In a world of vicious exploitation, brutal oppression, and environmental devastation, a new stage of the communist revolution, based on Bob Avakian's new synthesis of communism, is fighting to be born. One essential component of this is that Revolution newspaper and revcom.us have the financial resources to survive!
New and Breaking News...
October 25, 2012
October 25, 2012
October 25, 2012
October 25, 2012
October 25, 2012
REVCOM.US – SPREAD THE WORD EVERYWHERE!
Now available: downloadable palmcards to post and share online.
For WEB postables and print PDFs of the front cover, back cover, and centerfold of Revolution go to Post This!
NOW IN PRINT

To order: Send $6 plus $2.50 for shipping and handling to: RCP Publications, P.O. Box 3486, Merchandise Mart, Chicago, IL 60654 or order online.

Coming Events at Revolution Books