December, in Delhi, India: a young woman was gang raped and later died from severe injuries from the vicious attack. News of this horrific outrage struck a deep chord among millions of people throughout India and thousands of women and men poured into the streets in angry protest. This brutal rape and the courageous mass protests against it have revealed a seismic fault line in India and around the world: The oppression of women that concentrates one of the most basic social divisions in a world dominated by the system of capitalism-imperialism.
---
This winter, Revolution will publish a special issue which will boldly project the truth of what was accomplished in the past socialist revolutions, call out the lies that have become the "accepted verdict" on communism in today's world, and speak to the real shortcomings of those first heroic revolutions and how we can do better in the next stage of communist revolution.
---
Snapshots from the end-of-the-year fundraising parties and other activities.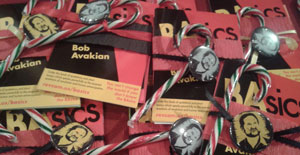 In January, we launched a pledge drive to build a base of financial sustainers large enough for Revolution and revcom.us to continue to function. As early reports come in, one thing emerging is that for that pledge drive to really "achieve liftoff," there is a need and important opportunity to sharpen people's understanding of this pivotal question: What do this newspaper, and revcom.us, have to do with making revolution?
Also in this issue
by Annie Day
Here you have the point of this highly ideological film: to make acceptable, or perhaps "complicated," to people who consider themselves progressive the acts of this empire, to celebrate revenge against "America's enemies," to get you to sympathize with the criminal monsters who are carrying out these acts and to cheer for the protection of the homeland, no matter the price.
---
… my thoughts and mind were absorbed on the topics addressed which compelled me to constantly re-open the book to continue reading and thinking deeply on what was said.
In the last few weeks donors have taken responsibility for renewing all the Revolution subscriptions in South Carolina prisons, all subscriptions in one Texas prison, and just recently, all subscriptions for the approximately 50 prisoners at California's Pelican Bay State Prison.
One of the "holiday movies" that millions of people, of all nationalities, went to see was a film about slavery. And in this way, aside from being entertaining, this movie is educating people, provoking and setting off lots of controversy and discussion, about a whole chapter in U.S. history that needs to be studied, discussed, and debated.
New and Breaking News...

This five-part interview began airing on The Michael Slate Show on KPFK (Los Angeles, 90.7 FM and kpfk.org) on January 11. Listen to part 1 here.
by Sunsara Taylor
Posted January 7, 2013
by Carl Dix
Posted January 7, 2013
January 2013
Rise Up for Abortion Rights On the 40th Anniversary of
Roe v. Wade

Jan 21-26: Week of Action—Washington, DC and San Francisco

Abortion and birth control are fundamental rights. Forcing women to have children against their will is a form of enslavement. And if women—half of humanity—are not free, then no one is free.

January 22, 2013 will mark the 40th anniversary of Roe v. Wade, the Supreme Court decision which legalized abortion. Yet today, abortion is more stigmatized, more dangerous to provide, and more difficult to access than at any time in the last 40 years.
IT IS TIME TO TURN THE TIDE!
For info East Coast and nationwide:
StopPatriarchy@
gmail.com

For West Coast:
StopPatriarchyBayArea@
gmail.com
Coming Events at Revolution Books