March 16 in NYC, LA and Chicago and March 17 in SF:
On this planet today, there are no questions that are more important—and no answers that are more thoroughgoing—than what is spoken to in BA Speaks: REVOLUTION—NOTHING LESS! And there is no person more filled with contempt for the powers-that-be and the horrific order they trumpet and enforce—nor more filled with scientific confidence in the potential of masses of people to change all that—than Bob Avakian, the Chairman of the Revolutionary Communist Party, USA.
Why go to this film premiere? Simply: It's by far the most important thing people could be doing that day–it's dealing with the most important thing there could be–because it's about the real possibility of bringing into being a radically different world, where all this madness, all the oppression and injustice, all the abuse and degradation that is so much a part of life now, would be done away with. If anybody can think of anything more important than that–let's hear it!
In the fall of 2012, Bob Avakian gave a series of talks in different cities.
This is a film of one of those talks.

Get with the film—online!


Let's go on a crucial journey together—full of unity against oppression and lively struggle about the source of the problem and the solution. Pursue your own convictions—that the outrages that move you are intolerable—to their logical conclusion, and be determined not to stop until those outrages have been eliminated. And if this, as well as learning about other outrages, and ideas about how this all fits together and flows from a common source—and how it could all be ended, and something much better brought into being—leads in the direction of seeing not only the need for bold and determined resistance, but also the need for revolution and ultimately communism, then don't turn away from that because it moves you beyond your comfort zone, challenges what had been your cherished beliefs, or because of prejudices and slanders. Instead, actively seek to learn more about this revolution and its goal of communism and to determine whether it is in fact the necessary, and possible, solution. And then act accordingly.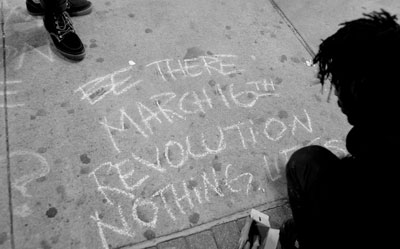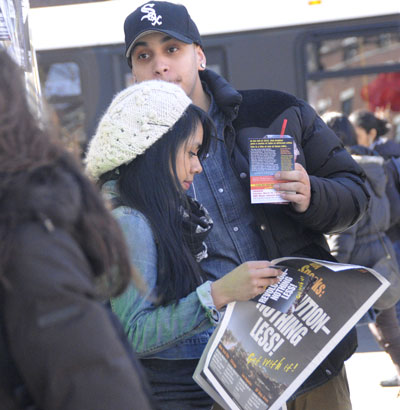 Photos: Special to Revolution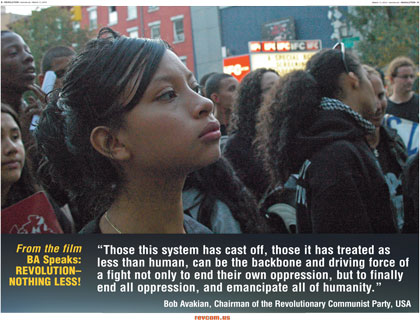 In Bob Avakian, the Chairman of our Party, we have the kind of rare and precious leader who does not come along very often.
Also in this issue
New and Breaking News...
March 21, 2013
March 22, 2013
SNAPSHOTS
–San Francisco Bay Area
–Chicago
–New York (posted 3/23/13)
Bring and share your thoughts, questions, and ideas sparked by seeing the film of BA's talk.
March 21, 2013
March 23, 2013
Mach 22, 2013
March 21, 2013
March 21, 2013
March 21, 2013
March 15, 2013
Denounces LAPD Attempt to Stop People from Publicizing BA Speaks: REVOLUTION—NOTHING LESS!
March 14, 2013
Coming Events at Revolution Books