Go to LATEST POSTS HERE

Featured
Find out more about BA Everywhere HERE
We Need to Overthrow, Not Vote for, This System!
BA, "Why do people come here from all over the world?"
Bob Avakian on the Oppression of Black People
and the Revolutionary Solution
Check out these critical works of BA that get into the cause of the problem and the means to liberation—the revolutionary solution:
Films
Get Organized for Revolution
Get With the Revolution Club
Fight the Power, and Transform the People, for Revolution
More on the Revolution Club HERE
Bob Avakian:
The leadership we have for an ACTUAL revolution
I want to get into BA...Where do I start?
In the fall of 2012, Bob Avakian gave a series of talks in different cities. This is a film of one of those talks.
"You can't change the world if you don't know the BAsics."
BAsics is a handbook for making revolution and emancipators of humanity
Get into Bob Avakian HERE
Also in this Issue
WWW.REVCOM.US/REVOLUTION NEWSPAPER brings alive a scientific analysis of major events in society and the world—why they are happening, how different events and developments relate to each other, how all this relates to the system we live under, where people's interests lie in relation to all this, how revolution is in fact the solution to all this and what the goals of that revolution are, how different viewpoints and programs relate, positively or negatively, to the revolution that is needed, and how people can move, and are moving, to build toward that revolution. Revcom.us/Revolution is the guide, the pivot, the crucial tool in drawing forward, orienting, training, and organizing thousands, and influencing millions—fighting the power, and transforming the people, for revolution—hastening and preparing for the time when we can go for the whole thing, with a real chance to win.
Subscribe to revcom.us | Donate to/Sustain revcom.us | Send your correspondence to revolution.reports@yahoo.com
A Statement from the Revolutionary Communist Party: ON THE STRATEGY FOR REVOLUTION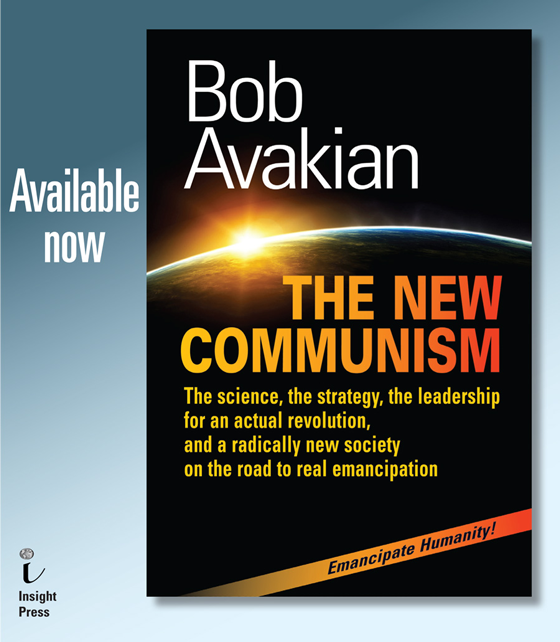 Available for Pre-Order Now
For individual orders and bulk orders, or to buy 2 at a discount with second one sent to a prisoner—Contact Insight Press, info@insight-press.com or (773) 329-1669. Payment accepted via credit card or money order.
Or write Insight Press, 4044 N. Lincoln Ave., #264, Chicago, IL  60618
Booksellers and Book Clubs: Independent Publishers Group (IPG)
Available soon for pre-order at Baker & Taylor, Ingram, Amazon, Barnes & Noble, etc.
Pre-publication PDF of this major work available here.
Note to our readers: This major work by Bob Avakian was previously posted at revcom.us under the title The Science, The Strategy, The Leadership for an Actual Revolution, And A Radically New Society on the Road to Real Emancipation
Get Into BA

HERE
Updated September 10, 2016
TICKETS NOW ON SALE
For the the October 8th Program to Launch the Pathbreaking New Book from Bob Avakian: THE NEW COMMUNISM
Saturday, October 8, 1:30 pm
Schomburg Center for
Research in Black Culture
Buy tickets: from Eventbrite and from Revolution Books.  
September 9, 2016
Get

THE NEW COMMUNISM

into the hands of prisoners!
Here's how. The publisher has a special offer: Buy one paperback for yourself from Insight Press, and buy a second book at 50% off for a prisoner and it will be sent directly to a prisoner. Total price for this offer is $25.50, plus $5.00 for shipping.
Contact Insight Press
info@insight-press.com
773-329-1669
What People Are Saying About Bob Avakian and THE NEW COMMUNISM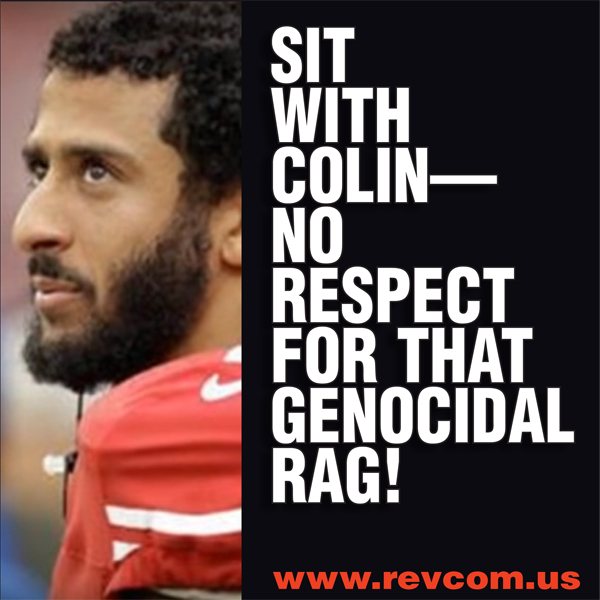 Sit Down for Their Nasty-full Anthem
Your #sitdownfortherag kit HERE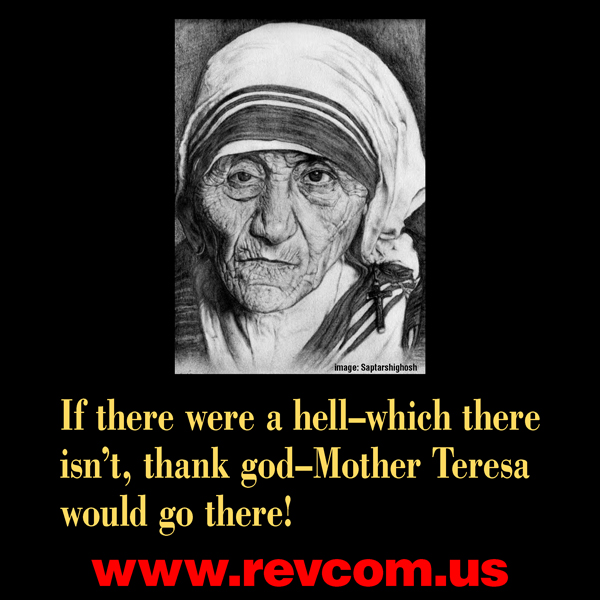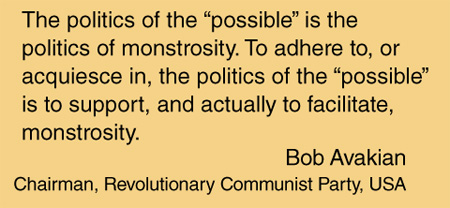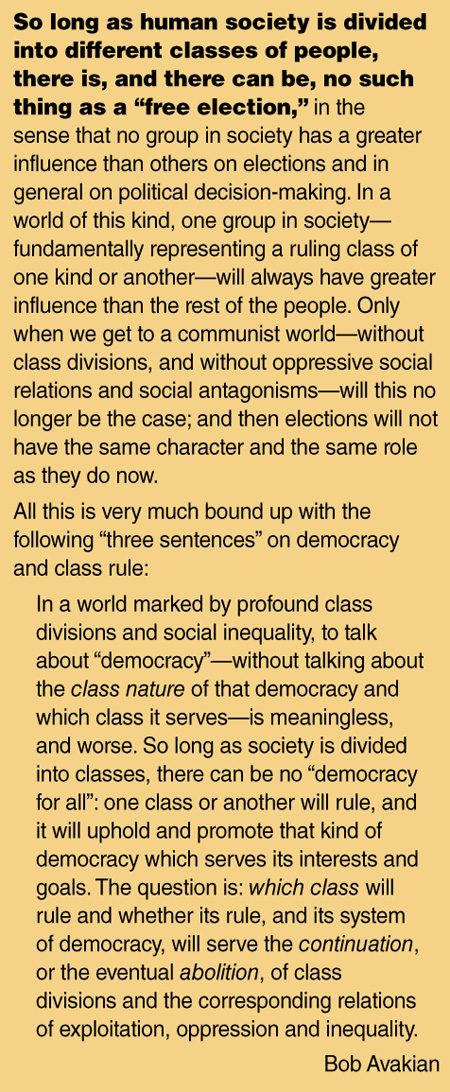 Question: Who can join the Revolutionary Communist Party?
~~~~
Question: Why do we not initiate violence during this period when we are carrying out the "three prepares"—why do we not just "get it on," and try to bring down this system, right now?
and
Question: Aren't Ferguson and Baltimore examples of the people initiating violence?
Reposted July 10, 2016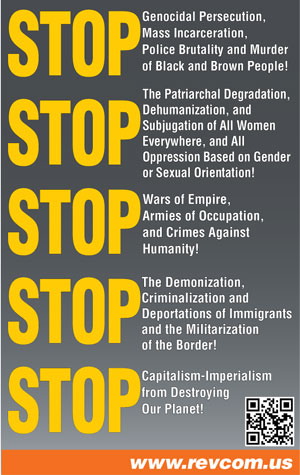 Copy these posters and distribute everywhere, especially on the campuses.
Black & White | Color
VOLUNTEER FOR REVCOM.US
» Confront the Actual History of the USA
Contribute to the "American Crime" Series
Updated August 25, 2016
» What it means to be a volunteer for revcom.us
Revcom.us has made several transitional changes to this website to make it more accessible to first-time viewers. There are more sweeping design changes coming. This is where you, the reader come in. Web and graphic designers—if you would like to work on the most revolutionary website on the planet, please write us at spreadrevolution@gmail.com.
Attention readers: Send in reports on protests, including photos and links to videos, to revcom.us/ Revolution newspaper at revolution.reports@ yahoo.com.