Sign the Call to Action. Join with over 2,000 others, including well-known people, to stop this regime before it starts.
"Imagine if people, in the tens of millions, filled the streets, powerfully declaring that this regime is illegitimate and demanding that it not be allowed to rule!  The whole political landscape would be dramatically transformed, every faction within the established power structure would be forced to respond—and all this could well lead to a situation in which this fascist regime is actually prevented from ruling. This is not some idle dream but something which could be made a reality if all those who hate what is represented by this fascist regime translate their outrage into firm determination and massive mobilization to create the conditions which make this possible."
December 12, 2016
Download the Call to Action: PDF or JPEG (Front | Back)

Saturday December 31—New Years Eve: political demonstrations and manifestations at Trump properties and elsewhere announce to the world the presence of the NO! movement.
More plans here.
Scroll to see:
STOP Trump/Pence Before They Start!

Donate right now to get this Call to Action in front of MILLIONS so we can win!
#NoFascistUSA | More info: refusefascism.org | DONATE HERE
What You Need To Know Today…
Carl Dix, of the Revolutionary Communist Party, USA, and one of the co-initiators of RefuseFascism.org, speaks at New Year's Eve protest at Columbus Circle, NYC. Carl lays out the vision and plan for taking the "No Trump! No Pence! No Fascist 2017!" message to every corner of society in the coming days and building massive resistance culminating in people coming to Washington, D.C. before the MLK holiday. Carl Dix is heading to DC, and calling on people to join him there, and to stay in the streets and disrupt business as usual to prevent the Trump-Pence regime from ruling.
Initiators of refusefascism.org and others speak out HERE
NEW STATEMENTS
December 31, 2016
ANNOUNCING!
The full interview with Ardea Skybreak...
Science and Revolution, On the Importance of Science and the Application of Science to Society, the New Synthesis of Communism, and the Leadership of Bob Avakian
...is now available in Spanish at this site.
Download Posters for refusefascism.org HERE

Revcom.us is calling on all our volunteers and readers to become organizers of this movement to stop the Trump-Pence regime:
*Report on demonstrations and other protests, in all spheres of society
*Take photos
*Spread the word through social media (including getting out all the powerful memes we have up at the site)
*Recruit others you know already and meet at these protests
In the coming days and on New Year's Eve, people will be in the streets—and revcom.us needs to cover it and share it with all those who are organizing to prevent Trump-Pence from coming to power. No protest should go unreported. Send everything to: revolution.reports@yahoo.com.
Revcom.us—where you go to scientifically understand and radically change the world
Your donations mean revcom.us can play its critical role at what is truly an historic moment.  
Seen on the Walls of Your City
Now a Pamphlet!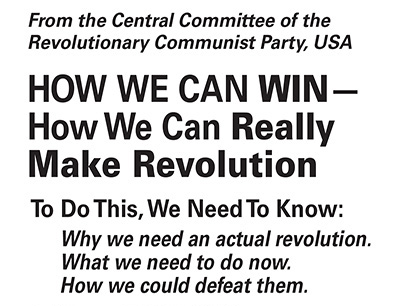 Read the entire HOW WE CAN WIN—How We Can Really Make Revolution HERE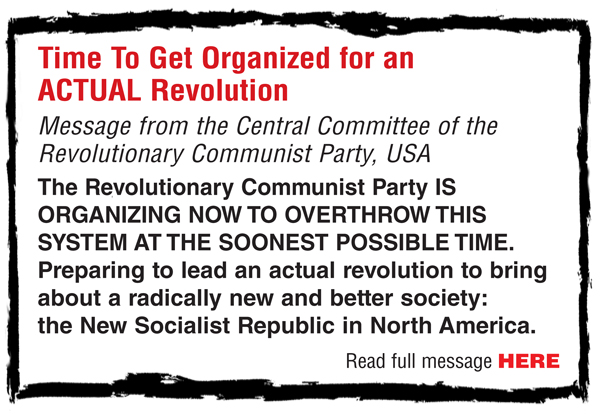 Downloadable PDFs for printing:
Originally posted July 15, 2016
Reposted given continuing relevance
Updated November 30, 2016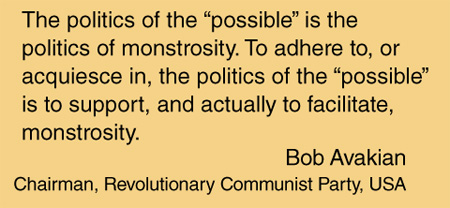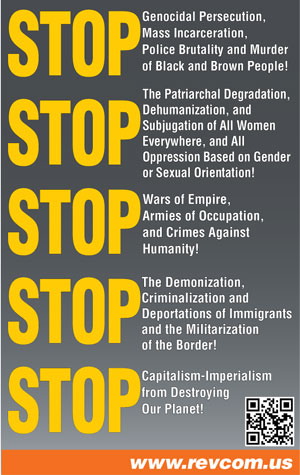 Copy these posters and distribute everywhere, especially on the campuses.
Black & White | Color
VOLUNTEER FOR REVCOM.US
» Confront the Actual History of the USA
Contribute to the "American Crime" Series
Updated August 25, 2016
» What it means to be a volunteer for revcom.us
Attention readers: Send in reports on protests, including photos and links to videos, to revcom.us/ Revolution newspaper at revolution.reports@ yahoo.com.