The "Obama Legacy"
Besides Carrying Out War and Aggression All Over the World and Committing Crimes Against Humanity...Besides Deporting Nearly 3 Million Immigrants...Besides Not Only Leaving Intact But Sharpening Up the Repressive Powers He Inherited From Bush...
BARACK (AND MICHELLE) OBAMA, OF ALL PEOPLE, DID MORE HARM TO BLACK PEOPLE DURING THE LAST EIGHT YEARS
Don't think so? Click here and read more.
The following was written before Trump's inauguration, but is being reposted due to its continuing relevance:
December 14, 2016
Notices to our Readers HERE
The Juggernaut Keeps Moving… And News of Resistance to the Trump-Pence Regime
A System Much Better Than One That Produces a Trump Is Possible
There Is a Viable Vision and Framework for a Far Better World and the Leadership in Bob Avakian to Get There
Notices to our Readers
BLACK HISTORY MONTH at Revolution Books New York
In the Age of Trump-Pence Fascism: Black History... The Fight for Emancipation... and the Future
» Carl Dix
» Yusef Salaam of the Central Park 5
» Ngũgĩ wa Thiong'o
» Daina Berry
Get SCIENCE AND REVOLUTION Out to Scientists
In the face of the Trump-Pence regime's fascist attacks on science and critical thinking, there is a lot of outrage and ferment among scientists and in the scientific community. If you're a follower of revcom.us, we encourage you to get out to universities, science labs, scientific conferences, and elsewhere to get the book Science and Revolution, an interview with Ardea Skybreak, into the hands of scientists and professors and students in the sciences.
To revcom.us readers: Now is a crucial time to join in the protests and other events where masses of people all over are acting against the fascist outrages by the Trump-Pence regime—especially get out to the campuses! Take with you palm cards with the slogan "NO! In the Name of Humanity, We Refuse to Accept a Fascist America" and with the quotes from Bob Avakian (BA) on truth and the approach to understanding reality (epistemology).
Revcom.us—where you go to scientifically understand and radically change the world
Your donations mean revcom.us can play its critical role at what is truly an historic moment.  
Seen on the Walls of Your City
Now a Pamphlet!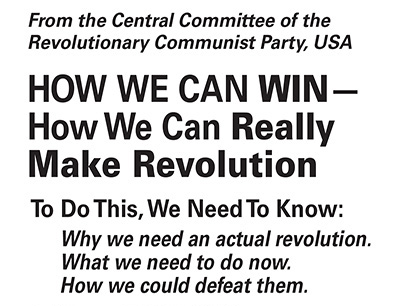 Read the entire HOW WE CAN WIN—How We Can Really Make Revolution HERE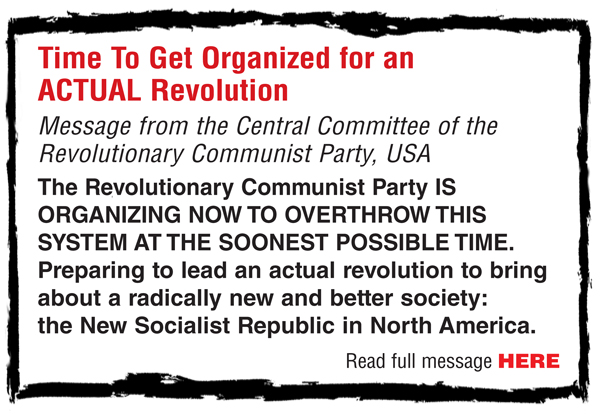 Downloadable PDFs for printing:
Originally posted July 15, 2016
Reposted given continuing relevance
Updated November 30, 2016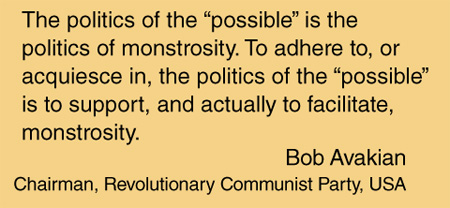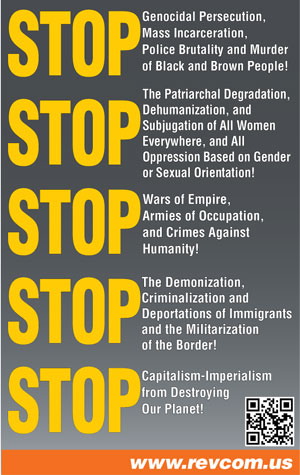 Copy these posters and distribute everywhere, especially on the campuses.
Black & White | Color
VOLUNTEER FOR REVCOM.US
» Confront the Actual History of the USA
Contribute to the "American Crime" Series
Updated August 25, 2016
» What it means to be a volunteer for revcom.us
Attention readers: Send in reports on protests, including photos and links to videos, to revcom.us/ Revolution newspaper at revolution.reports@ yahoo.com.