Read, Sign & Distribute The New Updated Refuse Fascism Call to Action:

Read the statement | Sign the statement | Download 2-sided Flier (8-1/2"x11" PDF)
Featured
A RefuseFascism.org Teach-In
What is fascism . . . What it means for humanity that the Trump/Pence Regime is fascist And, Why It Must Be Driven Out.
A talk by Andy Zee
Advisory Board of RefuseFascism.org
New, high-quality video.
More on Trump and the Fascist Agenda HERE
If you want to get a deep societal analysis of the horror we face and the possibility of a whole different way, you need to get into Bob Avakian...

BA on Internationalism and Bringing Forward Another Way
Revcom.us—where you go to scientifically understand and radically change the world
Your donations mean revcom.us can play its critical role at what is truly an historic moment.  
From Insight Press, March 28, 2017:
Bob Avakian's THE NEW COMMUNISM and the book Science and Revolution, an interview with Ardea Skybreak, are two key works that urgently need to get into the hands of many, many people. Now the publisher, Insight Press, has made available beautiful full-color promotional material for the two books. We call on revcom.us followers to get these out very broadly—at the upcoming major marches for science, the environment, and immigrant rights, and everywhere people are raising deep questions and being thrust into political life.
Go here for info on how to get these.
Women's History Month at Revolution Books New York—The Emancipation of Women and the Fight for the Future... And the Need to Drive Out the Trump-Pence Fascist Regime Now
Special Events for Women's History Month and Other Programs
Notices to our Readers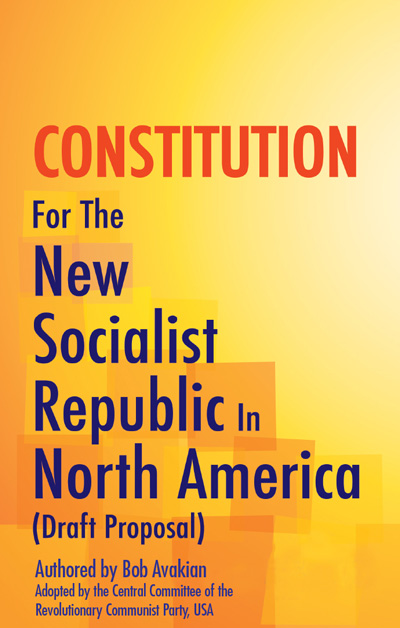 New "Authored by" Stickers for the Constitution for the New Socialist Republic in North America
Get SCIENCE AND REVOLUTION Out to Scientists
In the face of the Trump/Pence regime's fascist attacks on science and critical thinking, there is a lot of outrage and ferment among scientists and in the scientific community. If you're a follower of revcom.us, we encourage you to get out to universities, science labs, scientific conferences, and elsewhere to get the book Science and Revolution, an interview with Ardea Skybreak, into the hands of scientists and professors and students in the sciences.
To revcom.us readers: Now is a crucial time to join in the protests and other events where masses of people all over are acting against the fascist outrages by the Trump/Pence Regime—especially get out to the campuses! Take with you palm cards with the slogan "NO! In the Name of Humanity, We Refuse to Accept a Fascist America" and with the quotes from Bob Avakian (BA) on truth and the approach to understanding reality (epistemology).
Download Palmcards and get out all over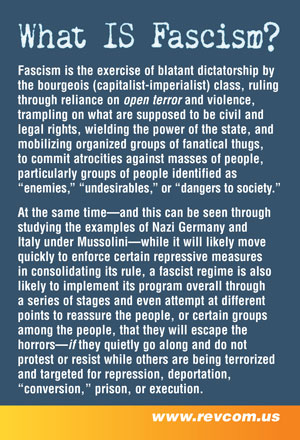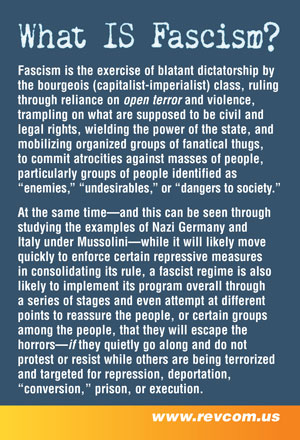 Download: PDF | JPG | Text version for sharing
Seen on the Walls of Your City
Now a Pamphlet!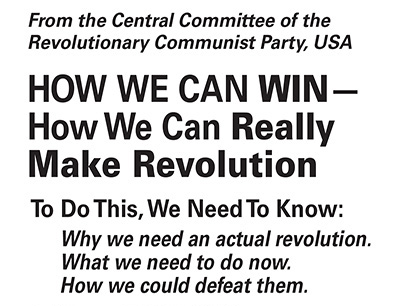 Read the entire HOW WE CAN WIN—How We Can Really Make Revolution HERE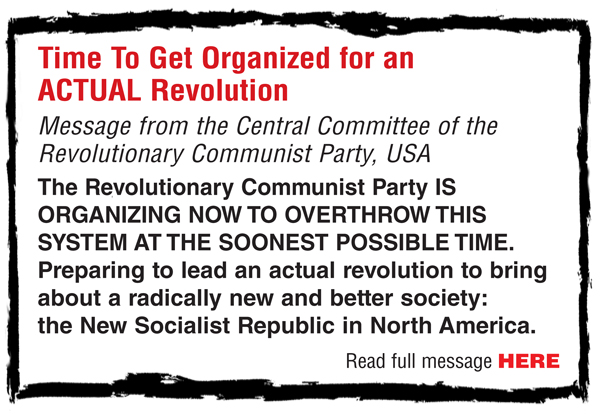 Downloadable PDFs for printing:
Originally posted July 15, 2016
Reposted given continuing relevance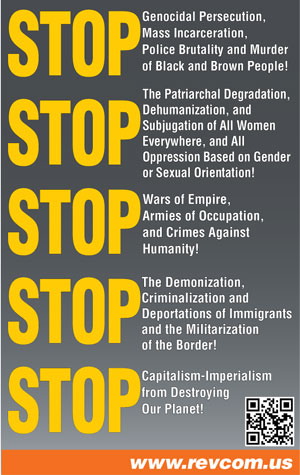 Copy these posters and distribute everywhere, especially on the campuses.
Black & White | Color
VOLUNTEER FOR REVCOM.US
» Confront the Actual History of the USA
Contribute to the "American Crime" Series
Updated August 25, 2016
» What it means to be a volunteer for revcom.us
Attention readers: Send in reports on protests, including photos and links to videos, to revcom.us/ Revolution newspaper at revolution.reports@ yahoo.com.