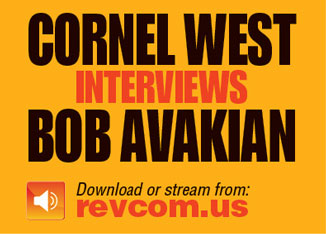 As part of holiday plans: now is the time to get this interview out all over the place—and raise money to project BA Everywhere throughout society at every turn! Here are some ideas....
Letter from a Unitarian Universalist minister, ecofeminist and animal rights activist.
Barack Obama has continued—and expanded—the Bush regime's wanton violation of the imperialists' own international and domestic law by escalating drone attacks in which the U.S. acts as judge, jury, and executioner. Over 2,500 people have been murdered in these drone attacks over the past decade.

AP Photo
Also in this issue
---
I recently went back over the interview with BA… I started this particular reading of the interview with an intention to deepen my grasp of its sweep and depth "in its own right." But as I read, I was struck by its direct relevance to some particular problems that the movement for revolution (and those working to lead it forward) confront right now.
New and Breaking News...
Your financial support is urgently needed to fill increasing requests to send Revolution newspaper, BAsics, from the talks and writings of Bob Avakian, and other literature to prisoners in 43 states across the U.S. 
December 13, 2012
December 13, 2012
December 13, 2012
In a world of vicious exploitation, brutal oppression, and environmental devastation, a new stage of the communist revolution, based on Bob Avakian's new synthesis of communism, is fighting to be born. One essential component of this is that Revolution newspaper and revcom.us have the financial resources to survive!
We Won't Go Back!
Abortion on Demand and Without Apology!
Defeat the War on Women!
Read more
NOW IN PRINT

To order: Send $6 plus $2.50 for shipping and handling to: RCP Publications, P.O. Box 3486, Merchandise Mart, Chicago, IL 60654 or order online.

Coming Events at Revolution Books