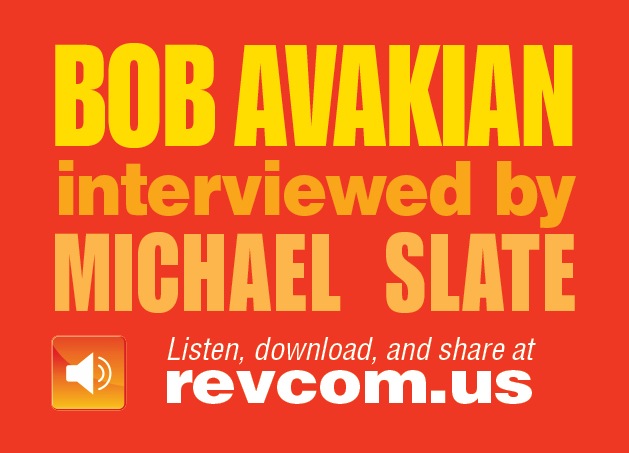 The five-part interview of Bob Avakian by Michael Slate hit the airwaves on January 11. If your heart aches to see an end to the horror upon horror piled on people around the world... if you are sick and tired of this shit and dream of a radically different, much better world... then you need to seriously get into the works by BA, the leader of a new stage of communist revolution.
---
The danger: Revolution/Revolución and revcom.us do not have the financial base to continue. The solution: YOU and others sustaining this paper and website.
---
Snapshots from the campaign to raise big funds to get BA's voice and work to all corners of society.
Abortion and birth control are fundamental rights. Forcing women to have children against their will is a form of enslavement. And if women—half of humanity—are not free, then no one is free.
On December. 16, 2012, a 23-year-old medical student was kidnapped, repeatedly gang-raped and tortured on a bus in Delhi, India. On August 11, 2012, a 16-year-old girl in Steubenville, Ohio, passed out at a party. While she was unconscious, the stars of the local football team stripped her naked, raped her, and goaded party-goers into urinating on her while crowds looked on. The cold truth is that today there is not a single place on the planet where it is safe to be female.
This letter was sent in early January to signers of the "Call to Stand Together to Resist the Obama Administration's Assault on Fundamental Rights," concerning the battle against the repressive National Defense Authorization Act (NDAA). This battle must be waged, as the letter stresses, in light of a disturbing turn, in a way that strengthens people's unity and determination, rather than dividing people from each other.
Also in this issue
New and Breaking News...
January 22, 2013
Read more
Check out Bob Avakian on "End Pornography and Patriarchy" in the second part of Bob Avakian interviewed by Michael Slate. Starts at about minute 23 of Part 2.
(Posted 1/24/2013)
by Larry Everest
(Posted 1/17/2013)
by C. Clark Kissinger
In light of the attention being focused on the movie Argo now, we want to call attention to the piece originally posted when the film came out last fall.
(Posted 1/17/2013)
(Posted 1/17/2013)
For audio and video of talks by Bob Avakian, including the recent interview of Avakian by Cornel West, go to the Bob Avakian Audio/Video page.
Coming Events at Revolution Books