How often do you hear it… when a woman is raped…when a woman is humiliated and disrespected, when a woman is battered or murdered…
"She should have known better."
Bullshit!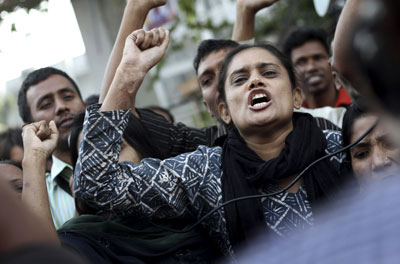 Photo: AP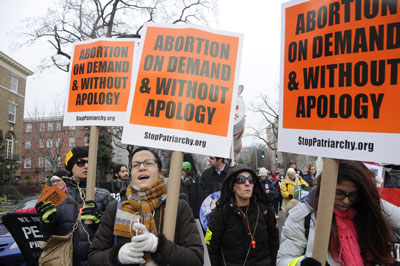 Photo: Special to Revolution
You cannot break all the chains, except one. You cannot say you want to be free of exploitation and oppression, except you want to keep the oppression of women by men. You can't say you want to liberate humanity yet keep one half of the people enslaved to the other half. The oppression of women is completely bound up with the division of society into masters and slaves, exploiters and exploited, and the ending of all such conditions is impossible without the complete liberation of women. All this is why women have a tremendous role to play not only in making revolution but in making sure there is all-the-way revolution. The fury of women can and must be fully unleashed as a mighty force for proletarian revolution.
Bob Avakian
BAsics 3:22
Compare this Constitution—both this passage but the entire document itself—with any other constitution on the planet! And after doing so, tell us why we should not fight for such a society.
In January, 2003, the organization Planned Parenthood announced that it is abandoning the term "pro-choice" because "abortion can be complicated."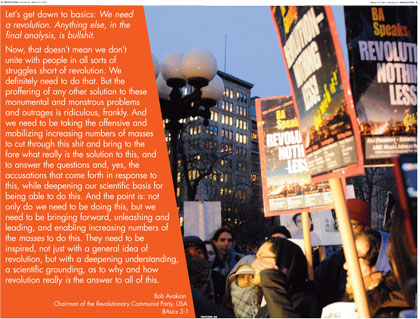 March 16 in NYC, LA and Chicago and March 17 in SF:
On this planet today, there are no questions that are more important—and no answers that are more thoroughgoing—than what is spoken to in BA Speaks: REVOLUTION—NOTHING LESS! And there is no person more filled with contempt for the powers-that-be and the horrific order they trumpet and enforce—nor more filled with scientific confidence in the potential of masses of people to change all that—than Bob Avakian, the Chairman of the Revolutionary Communist Party, USA.
"My dear brother Bob Avakian... is the Chairman of the Revolutionary Communist Party.... He is one of the few coming out of the 60's who never sold out, he never caved in, he never gave up, held on to his forging of a rigorous, scientific analysis of the objective realities that are driven by a revolutionary love—because he has such a deep love for poor people, oppressed people, all around the world. Whether you agree or disagree with our brother, one thing you cannot deny: that he is the real thing. No doubt about it."
–Cornel West, introducing his interview with Bob Avakian on the Smiley & West radio show
(October 5, 2012)
Build for the Premieres of BA Speaks: REVOLUTION—
NOTHING LESS!
In the fall of 2012, Bob Avakian gave a series of talks in different cities and BA Speaks: REVOLUTION—NOTHING LESS! is a film of one of these talks. Revolution newspaper encourages people who had the chance to see Bob Avakian speak live to actively talk with as many people as possible about that experience as part of building for the upcoming premieres of the film. And urge people to attend.
From the manager of a Pan-African bookstore, Chicago
Show the Rough Cut
As part of building for the premiere of BA Speaks: REVOLUTION— NOTHING LESS, show people the rough cut of the film, if it is available in your area. Then ask them to write down or speak their thoughts on the film and on why they are going to be at the premiere and why others should too. Send these testimonials—either written or a youtube—to revcom.us at revolution.reports@yahoo.com and the BA Everywhere campaign at baeverywhere@gmail.com.
---
It is a striking fact—which is starkly evident in the U.S. now—that, in comparison to what is done to women, there is no other group in society that is so systematically reviled and defiled in a way that has become acceptable (or widely accepted in any case) as a significant part of "mainstream" life and culture, as happens in a concentrated way through pornography and the extremely demeaning and degrading images and messages about women it massively and pervasively purveys (with the Internet a major focus and vehicle for this), including pornography's extensive portrayal of sadistic and violent sexual domination of women...
I began the "Revolution" talk with "They're Selling Postcards of the Hanging," reviewing the ugly history of the lynching of Black people in America and the way in which celebration of this became a cultural phenomenon in the U.S., with the selling of picture postcards of these lynchings a major expression of this—often including smiling and leering crowds of white people surrounding the murdered and mutilated body of a Black man. In a recent exchange, a comrade emphasized this profoundly important and compelling point: Today, the way in which pornography depicts women—the displaying of women in a degraded state for the titillation of viewers—including the grotesque brutality and violence against women which is involved in much of this, is the equivalent of those "Postcards of the Hanging." It is a means through which all women are demeaned and degraded.
Bob Avakian
Chairman of the Revolutionary Communist Party, USA
Unresolved Contradictions, Driving Forces for Revolution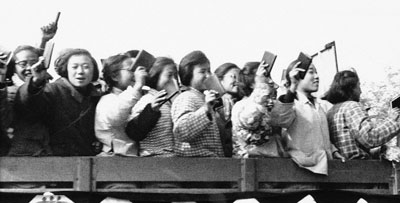 Photo: AP
Also in this issue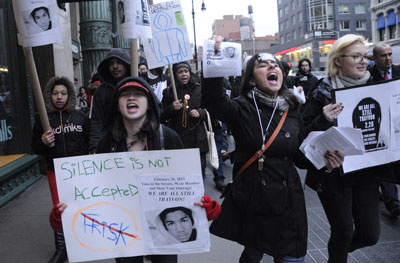 Photo: Li Onesto/Revolution
February 26: People Take to the Streets a Year After the Racist Murder of Trayvon Martin
People across the country take to the streets in a day of remembrance, defiance, and determination to demand justice. Read reports from two areas:
by Sunsara Taylor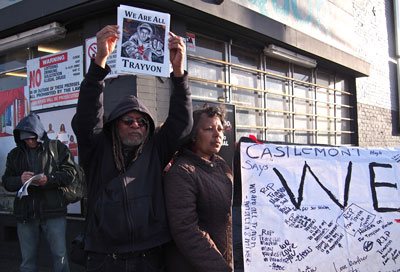 Photo: Special to Revolution
Four thousand French troops invaded the North African country of Mali in January. They drove Islamic Jihadists from their strongholds. The Jihadists have enforced a draconian version of Islamic law. But their crimes aren't even in the same league as that of the French invaders.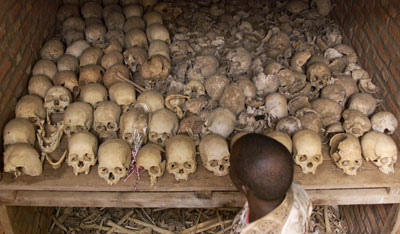 Photo: AP
Three ominous events in the news last week show just how sharply fundamental rights are under attack—Bradley Manning: Torture and Persecution of Whistleblowers; Supreme Court Rejects Challenge to Government Spying; Scalia's Racist Attack on Black Voting Rights
In January 2013, Revolution had the opportunity to interview Leah Bolger, the National President of Veterans for Peace about the case of Bradley Manning.
On February 27, charges were dropped against four people who had been arrested at a Brooklyn NYPD precinct in November 2011, at an action that was part of the movement to stop mass incarceration.
New and Breaking News... and New Developments in the Movement to Build the Film Premieres
Why go to this film premiere? Simply: It's by far the most important thing people could be doing that day–it's dealing with the most important thing there could be–because it's about the real possibility of bringing into being a radically different world, where all this madness, all the oppression and injustice, all the abuse and degradation that is so much a part of life now, would be done away with. If anybody can think of anything more important than that–let's hear it!
March 8, 2013
See ideas for promotion and snapshot reports.
See new statements from people.
March 6, 2013
March 8, 2013
March 6, 2013
Four points of orientation for understanding the politics and economics of Hugo Chavez and U.S. imperialism's stance towards him.
March 8, 2013
March 8, 2013
March 8, 2013
There's a page at revcom. us where you can Get with it!: Get tickets for BA Speaks: REVOLUTION – NOTHING LESS! Get info on where the film is showing. Get help and leadership for building for
the film. Read what people who have seen a rough cut of the film have to say. Share experience and lessons learned in building for the premieres. Download artwork for web and print ads, and audio clips for radio. And very important, donate to help the promotion of the film. It's all at revcom.us.
Check in at this page for new reports, film trailer, poster, and more!
Revolution calls on our readers to send reports on your experiences building for the premiere of BA Speaks: REVOLUTION— NOTHING LESS! Everything you do to build for these premieres is important. And every report you send in to Revolution feeds into the big picture of what we are learning, what we are changing, what problems we need to solve and what advances we can learn from. Send reports at least once a week—we'll be checking daily: revolution.reports@
yahoo.com.
We want to thank everyone in advance for their submissions and while we can't post everything we are receiving, we are learning a lot from everything that is coming in, so please keep writing.
Coming Events at Revolution Books