For latest analysis of major events in society and the world, CLICK HERE
Get Into the Revolution National Organizing Campaign and Tour 2016-2017


Don't Normalize Fascism!
Overthrow, Don't "Heal,"" This System!
The Democrats Have Said They Will Accept a Trump Election as Legitimate


What Does That Mean? And What Must We Do?
Native Americans Fight Modern-Day Genocide:
Standing Up at Standing Rock
October 29: Carl Dix Talks About Standing Rock at Chicago October 29 Rally
Up to 100 riot police attack people who reached Turtle Island. Photo: Special to revcom.us.
More on Standing up at Standing Rock HERE
Featured
Seen on the Walls of Your City
Now a Pamphlet!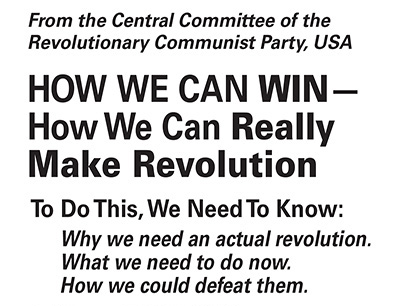 Read the entire HOW WE CAN WIN—How We Can Really Make Revolution HERE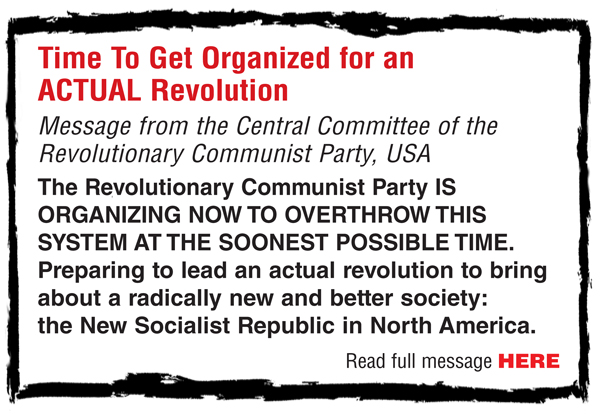 Announcing:
NEW revcom.us mobile app for Android users is now available. Download from Google Play, search for revcom.us
Updated November 4, 2016
by Carl Dix
November 2, 2016
Read more
NOW AVAILABLE: Download PDF for print
Updated November 2, 2016
(This is a shorter version of the original article, that people can duplicate or use to read aloud with people.)
Read more
NOW AVAILABLE: Download PDF for print
November 4, 2016
November 3, 2016
November 2, 2016
November 2, 2016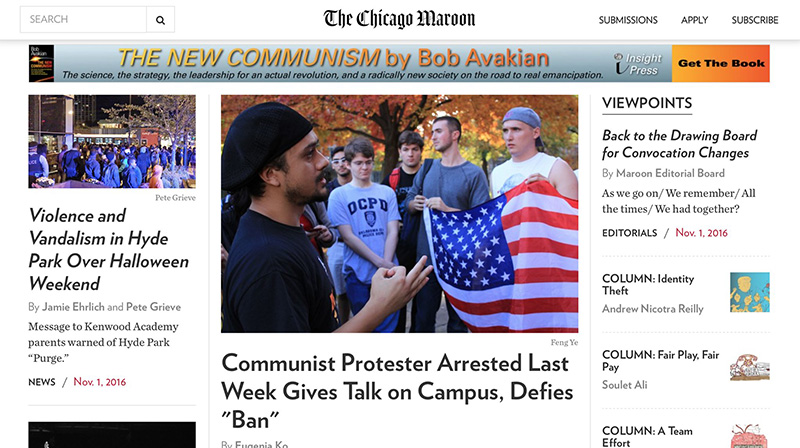 October 31, 2016
Updated with new videos November 3, 2016
From Cornel West: "I stand with my brother Noche Diaz and my comrades in Chicago who were arrested and beaten by the Chicago police! They have a right to bear witness for justice and deserve humane treatment!"
From Edward Asner:
Dear President Zimmer,
Are the University of Chicago police now acting as representatives of the city of Chicago? Freedom of speech, a basis of the United States and customarily universities, broadens that principle even more. As a former University of Chicago student, I protest the mauling of Noche Diaz and the young girl who was punched.
What's wrong with the University of Chicago President Zimmer? Has it been Trumpized? To habitually roust Noche Diaz and others is a crime as you are betraying the ideals of what a university should be. Drop the charges against Noche Diaz. Don't cheapen or betray the University of Chicago image!
From Rev. Peter Goodwin Heltzel, Ph.D.: "I stand with my friend and fellow New Yorker Noche Diaz who was arrested and beaten by Chicago police! He has a right to free speech and should be treated with respect. Together we can work for an equitable, safe and sustainable world."
From Chuck D: @MrChuckD: @Noche_RC bringing more logic than your candidates
From a Professor Emeritus at the University of Colorado at Boulder: "Dear President Driscoll and President Zimmer: You surely know that free speech is essential to both critical thinking and political democracy. The arrest of Noche Diaz and members of the Revolution Club at your respective institutions are serious attacks upon free speech. All charges against these people should be dropped immediately."
From a Borough of Manhattan Community College (BMCC) student: "...as a student and a human being that has the freedom of expression...I believe that we have the freedom to receive information from all sources and this is one of them. I encourage revolutionaries to keep visiting our CUNY campuses and have the freedom of expression."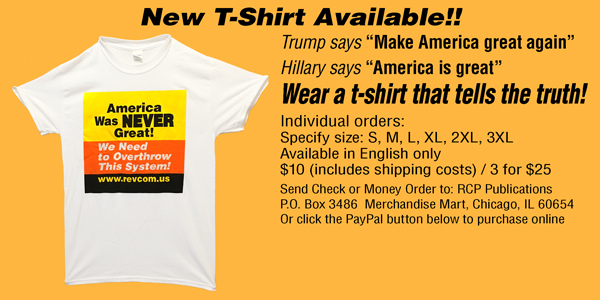 To order 3 shirts for $25, write RCP Publications at the above address.
An initial selection is available now. More will be added soon.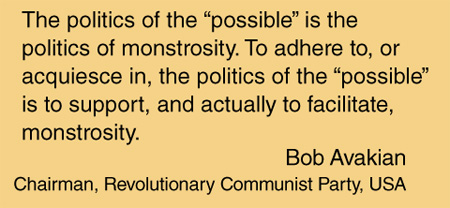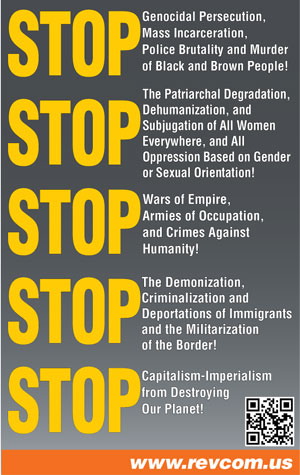 Copy these posters and distribute everywhere, especially on the campuses.
Black & White | Color
VOLUNTEER FOR REVCOM.US
» Confront the Actual History of the USA
Contribute to the "American Crime" Series
Updated August 25, 2016
» What it means to be a volunteer for revcom.us
Attention readers: Send in reports on protests, including photos and links to videos, to revcom.us/ Revolution newspaper at revolution.reports@ yahoo.com.